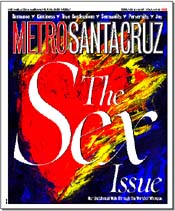 For the Week of
February 13-19
The Sex Issue
Dominatrix Sleeps Tonight: An enterprising dominatrix finds fame, fortune and a whole lotta kicks, thanks to the guidance of her adoring, PR-churning disciple.
God vs. Sex: A from-the-cradle Christian fundamentalist wrestles with his strict religion and his from-the-cradle homosexuality.



Tune Me On: Choosing the right kind of sexy musical accompaniment to doing it is a matter of both style and substance.



Edible Complex: Humans go to fantastic lengths to inspire passion and love via food.



The PC Kama Sutra: Make room on your bookshelves and in your bedrooms for a new, improved, politically correct 'Kama Sutra.'
Gonna Take It Lying Down: New sexy book package is a great bedside read.