Vote Here!
Cast your ballot in the 2004 Goldies Readers Poll.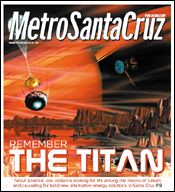 For the Week of
February 18-25, 2004
Cover Story: Remember the Titan:
NASA scientist Joe Jordan is looking for life among the moons of Saturn and crusading for bold new alternative-energy solutions in Santa Cruz.
Nüz: The debate over same-sex marriages.



Passion Playdates: Crucifix season opens--Mel's 'Passion' vs. 'The Gospel of John.'
Bold Mountain: The Banff Mountain Film Festival takes sports documentaries to the extreme.



Squeeze Play: The Santa Cruz Symphony clears space for sax--and even an accordion--at this weekend's performances.
The Rock Show: Drag the River; the Groovie Ghoulies; the Poison tribute band Antidote.



Better Late Than Never: The name was supposed to mean 'Lucky 8,' not 'Late,' but the owners of the L8 Buffet have found a niche.