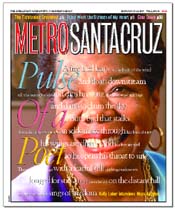 For the Week of
February 20-26
Cover: Pulse of a Poet
Maya Angelou talks about courage and learning to listen to the powerful voice within.
News: The House Broken
As the regional economy booms and the population swells, Santa Cruz's open-space policies and poor planning threaten to squeeze students and low-income workers out of the housing market.



Talking Pictures: A trio of young first-time theatergoers see the remastered edition of "Star Wars.'



Second Fiddle: Renowned guitarist John Renbourn sings the praises of his co-star, vocalist Archie Fisher.
Notes From the Underground: The demise of Baseline Records leaves locals facing an increasingly indie-free musical environment.



Ciao Down: In the heart of the redwoods, an overly exuberant Italian eatery provides an garlic-infused pit stop for its San Lorenzo Valley patrons.