Vote Here!
Cast your ballot in the 2004 Goldies Readers Poll.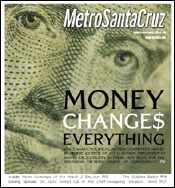 For the Week of
February 25-March 3, 2004
Cover Story: Money Change$ Everything:
Once again, Political Action Committee money is at the center of an election firestorm in Santa Cruz County. Is there any hope for the founding fathers' vision of democracy?
Nüz: Attorney General Bill Lockyer says Gov. Schwarzenegger 'plays Conan the Barbarian for the right wing' on the issue of gay marriages.
United We Stand: Metro Santa Cruz's rundown of the March 2 election.



Wild Moose Chase: If only the producers of 'Welcome to Mooseport' could have nabbed a co-star who could match wits with Gene Hackman.



The Vindication Blues: Fifty years into his career, he's a musical legend, but it took decades for audiences to catch up with Mose Allison.
To the Devil His Due: The SC Symphony proves Mollicone's music owes a debt to something otherwordly .
The Rock Show: Second City; the White Album Ensemble.



Be My Guest: Chef swapping is all the rage as the 'infusion' trend catches on in SC.
A Europe United: Italian and French cuisine live together in harmony at Cafe Mare.