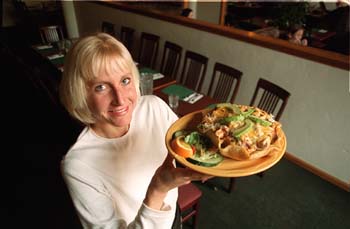 Photograph by George Sakkestad

Mission Revival Mexican: Kelli Murdock holds up a tostada salad in El Palomar's main dining room.

Staying Power

Brilliant flavors and authentic specialties still pour from the kitchens of downtown Santa Cruz's El Palomar

By Christina Waters

KATYA AND JACK were in for a treat. Neither of these world-traveled foodies had ever tasted pozole, the earthy pork and hominy stew of Mexico. And the pozole created at El Palomar is among the best anywhere, including Oaxaca, where myriad pozoles are a regional specialty. So when we met for dinner at El Palomar last week, there was definitely one thing I knew we would order.

Spreading out and getting cozy in one of those huge hemispherical booths, I realized I'd probably eaten in this splendid dining room more than 100 times. I was there when El Palomar first opened, and when it came back--bigger and better--after the earthquake. My parents used to peek into this former Mission Revival ballroom when they were youngsters many years ago. With its polychromed barrel-vault ceiling, cove fireplace and tile work, it is just as splendid now.

You only have to live in Santa Cruz for 10 minutes to find out about the handmade corn tortillas, the succulent pork tacos, the delicate sopes and amazing seafood specialties. Enough margaritas have been consumed here to fill Monterey Bay, a thought that inspired us to order three different margaritas. Katya had one made with Hornitos, Jack went with the no-frills house version and I decided to splurge on one made with Patron Aèjo. Ranging in price from $4.25 to $6.50, they were all great, but we decided that the Hornitos version had the best balance among tequila, lime and salt.

The booth is so immense, we all felt like we were inhaling chips, really killer salsa and margaritas in the back seat of a huge classic car. Remember, everybody likes El Palomar, and the place is always packed. We ate a ton of chips before our appetizer: Jose's Special ($12.50). What arrived was a buxom Fiestaware platter filled with finger-food strips of charbroiled carne asada next to a pool of tomatillo sauce, and moist grilled snapper next to sensuous pinto beans.

Katya immediately dove for huge prawns, folded several into a pliant corn tortilla (El Palomar's corn tortillas are soft and sweet, and you'll never order flour tortillas in this place, believe me). At any rate, the result--with some salsa fresca added--was a seriously wonderful prawn taco. Jack silently ate strip after strip of the delicious steak, while I wondered why we'd even bothered to order entrees.

But we had, and when they arrived we were good and ready, taste buds primed to the max. The deep bowl of pozole ($8.50) steamed like an Aztec volcano. Islands of succulent pork--the kind that actually does fall off the bone--and fat, white hominy dotted a tomatoey broth filled with cilantro, crisp cabbage and tart lime. Salsa fresca floated on top, and both Katya and Jack moaned with pleasure. It was as good as ever. How many restaurants can say that about one of their house specialties?

But my evening special, yellow- tail tuna ($14.95), was just as good, grilled and sauced with teriyaki and tomatillo, one of those only-in-Santa Cruz Pac Rim ideas that actually works. Deliciously. With it came rice--good, but pretty much ignored since other foods demanded more attention--and a viscous lake of pinto beans.

Katya's order of camarones with fiery guajillo sauce--a complex layering of red chiles that leaves afterburner fire in the mouth--was satisfying ($13.95). The prawns were moist and well-grilled, and there were plenty of them. The rice and beans provided accompaniment, but the incandescent sauce was the star. However, we all brought our spoons back to that bowl of pozole, one of the real stars of Mexican cuisine.

Somehow our margaritas lasted until the end of the meal, and we split a well-made house flan ($3.50) for dessert. Viva El Palomar, a place incapable of serving uninteresting food.
---
El Palomar
Address: 1336 Pacific Avenue, Santa Cruz
Phone: 831/425-7575
Hours: Lunch and dinner daily.
Extras: Separate lounge and taco bar.
Service: ** 1/2 Always thoughtful, but often at the mercy of the kitchen.
Ambiance: *** 1/2 Loud but beautiful landmark room makes everything feel livelier, and taste like a fiesta.
Cuisine: *** Consistent authenticity, bold flavors and freshly-made dishes make this one of our finest dining rooms.
Overall: The Virgin of Guadalupe must keep her eye on those corn tortillas.
---
[ Santa Cruz | MetroActive Central | Archives ]