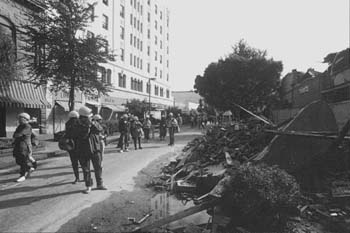 Photograph courtesy of David L. Brown Productions

Experiencing History: Even cataclysmic events like 1989's Loma Prieta earthquake, which devastated Santa Cruz's Pacific Avenue, hardly seem like history to the people who live through them.

The Story of History

For curators recounting Santa Cruz County's 150-year history, the telling is as important as the tale

By Heidi Johnston

SEPIA-STAINED PHOTOS offer windows to the past. In one, a man steps through the rubble along a demolished street in downtown Santa Cruz, absorbing the sudden aftermath of one of the county's worst earthquakes. Lining the walls of the Museum of Art and History and the Pajaro Valley Gallery with memories, these small portals to the past can be shocking.

These photographs can also capture the passage of time, explains Kathleen Moodie, who's curating MAH and Pajaro Gallery historical shows that mark Santa Cruz County's 150th anniversary. Compare two shots taken from the same location, she says--a row of buildings along the Front Street Chinatown. Before and after images show the impact of a terrible blaze.

"Those are probably safes," Moodie says, pointing out the only remaining charred obstacles in the ash.

Moodie for the show has sought to highlight comparisons and contrasts. The exhibit develops in categories, looking at government and politics, commerce and enterprise, agriculture and science, and cultural arts. With the help of MAH education curator Leah Tarlen, she lays out stories with archival photographs and artifacts.

"We didn't want to limit it to a dry timeline so we added cultural events and arts," Tarlen says. "We portray things that took place here but had an effect outside of the county."

In addition, the history shows include a lecture and "Informance" series at the MAH and in Watsonville. The Watsonville series offers a public forum to hash out issues of current affairs, contemporary art and the future of the Pajaro Valley.

MOODIE BUSTLES around the history gallery at the MAH, jotting memos on Post-It notes, which, placed temporarily over empty spaces along the wall, suggest holes in a pattern being worked out, a journey through time under construction. The pattern is the thing; history is a story--but whose story? For Tarlen, the telling is just as important as what's told, more than just a dry textbook timeline of facts and dates.

"It's what people think is happening as well as what is happening," says Tarlen. "A lot of people don't think WWII and the 1960s is history. It just 'happened.' " Adds Moodie: "Except if you're eight years old and lived through it!"

Reconstruction of history with concrete accuracy is unrealistic, they continue. Partly it's because of human error, but also because perspectives change and artifacts are scarce.

"One of my frustrations is that the facts start to thin out after 1920," Tarlen explains. "It's hard to view the time that you're living in as history, but today's news is tomorrow's history."

"I go through timelines and I make a label and then sometime, like right before I'm supposed to put the exhibit up, my eyes fall on a piece of information that causes a discrepancy in dates," Moodie says. "It sets up such an anxiety to realize that there is no such thing as history!"

With an objective eye (perhaps not in the scientific sense) Moodie puts together a balanced sesquicentennial show. The trick is to look for sources who have a point of view

"The predominance of material from the period is obviously from the upper-class in most cases," Tarlen says. Tracking Red Cross records and studying oral histories is sometimes the only way to get bits of information on marginalized sections of the population.

History is also hard to pin down to a date, a time, a place. Santa Cruz County has been influenced and affected by legendary artists and thinkers. Some of the original chaos theorists converged here, as well as famous photographers, sculptors and entertainers--none of whom produce their works on a convenient timeline.

"The purpose of the show is just to celebrate Santa Cruz, so although it's historically based, it's also just a celebration of accomplishments," says Tarlen.
---
Happy Birthday, Santa Cruz County! Celebrating 150 Years runs at the Museum of Art and History, 705 Front St., Santa Cruz, through March 18 and the Pajaro Valley Gallery, 37 Sudden St., Watsonville, through May 28. The MAH is open Tuesday to Sunday, 11am-5pm, Thursdays until 7pm; admission is $3 general, $20 county residents (429.1964). The Pajaro Valley Gallery is open Wednesday to Saturday, 12:30 to 4:30pm, and admission is free (722.3062).
---
[ Santa Cruz | MetroActive Central | Archives ]