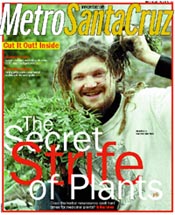 For the Week of
March 3-10, 1999
Cover:
The Secret Strife of Plants
Does the herbal renaissance spell hard times for medicinal plants?



Musical Youth: Lyrical chutzpah and DIY spirit drive UCSC duo, the Applicators.
Lord of the Rejects: Paul Westerberg probes the pain of vulnerability on Suicaine Gratifaction.
Notes From The Underground: Slow Gherkin converts a ska-phobe, and Palookaville hosts a mix of good and bad.



Art & About: Musical chairs and a call for artists.



Growing Pains: UCSC's theater arts department infuses talent into Chekhov's humorless Cherry Orchard.



Serving Matters: Dining pros come clean about on-the-job quirks.



De Niro Worship: In a familiar role, De Niro still delivers.