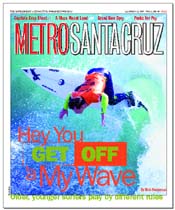 For the Week of
March 6-12
Cover:
The Surf & Turf War
Older, younger surfers play by different rules.



A Muse Meant Land: In Celebration of the Muse breaks down the walls of isolation to allow women to share their voices with each other and the world.



Grand New Opry: Carrying a torch for the performing arts, the Der Torossian impresarios bring more than a night at the opera to Capitola Village.



Veni, Vidi, Vinci: Italian cuisine continues to conquer our fair region, launching its latest assault in the charming guise of Caffe Bella Napoli.



Notes From the Underground: Old rebels buy into glamour, success and bottom line.



Virtual Paradise: Everyone can help shape the future of the Web.