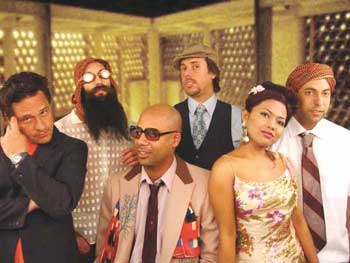 Burning Sensations: Dengue Fever demonstrate the effects of prolonged exposure to '60s Cambodian pop.

Holiday in Cambodia

Dengue Fever forges on in face of language barriers and terrorist sweeps

By Matt Reed

Dengue Fever's oft-told creation story goes something like this: Musically inclined guy from Southern California backpacks through Southeast Asia for a few months. On his way to Angkor Wat, he hears a unique sound blaring from a tape player on the street—the sound of smoothly crooned 1960s Cambodian pop, with hints of surf guitar and dreamy saxophone solos. His traveling companion comes down with dengue fever, an infectious disease spread by mosquitoes, but guy is simultaneously struck with inspiration and returns to Los Angeles with an idea and an armful of secondhand cassettes.

That was Ethan Holtzman, now the band's Farfisa organ player. Part II of the band's creation story comes later, in Long Beach's Little Phnom Penh neighborhood, where Holtzman and his brother, Zac, a guitarist for Dieselhed, trolled the Cambodian nightclubs, looking for a Cambodian woman to sing in a band they were forming.

"I thought it would be great if we could learn some of these songs and see if we could somehow pull them off," Holtzman now says. "We thought maybe a Thai or a Vietnamese singer could do it. We didn't know that there was a Cambodian community nearby. Finally we met a Cambodian guy at a bar, playing pool. He didn't speak much English, but he kept saying, 'La Lune,' 'La Lune,' and making these hand gestures, you know, like the Cambodian girls dance."

La Lune turned out to be one of the restaurant-nightclubs in Long Beach that feature Cambodian singing on Fridays, Saturdays and Sundays. Dragon House, another nightclub, was where the Holtzman brothers met Chhom Nimol, a recent immigrant from Phnom Penh who had once performed for Cambodia's king and whose brother and sister are well-known singers in Cambodia.

"[Her stage presence] commanded your attention. Her face and her eyes just pulled you in," Holtzman says.

That was in 2001, and two years later, the band (other members include Senon Williams of Radar Brothers, Paul Smith and David Ralicke, who has recorded and toured with Beck) had a self-titled album—made up mostly of Khmer-language covers of old '60s Cambodian standbys, including "I'm Sixteen," a song about a virgin trying to hold off her boyfriend, and "Shave Your Beard," which is about a jealous woman suspicious of her man's new facial hair, which Nimol often playfully sings in the direction of Zac Holtzman, Dengue Fever's ZZ Top-bearded guitarist.

While most of the band's songs, sung in Khmer, Cambodia's national language, tend to be about lost love, exceptions are "Ethanopium," an instrumental version of an Ethiopian jazz tune that is dominated by Holtzman's keyboard playing, and "22 Nights," a mellow and, in places, plaintively sung tune about Nimol's three weeks in immigration custody in 2003 following a code-orange terrorist sweep.

"We were coming back from a show in San Diego, and we hit a checkpoint. Nimol's passport showed she had overstayed her tourist visa, and so they detained her. We got her a lawyer, and it all seems to be cleared up," Holtzman explains.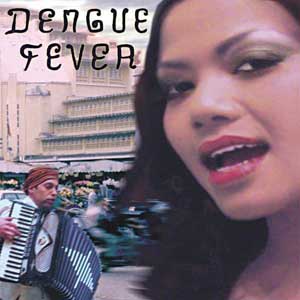 A Lovely Way to Burn: Before moving to the United States, Nimol says she was most influenced by Celine Dion.
Nimol, who speaks limited English and was reluctant to talk about the experience in recent Khmer-language interviews, said she was in a cell with several Mexicans. "I have my visa now, and this is all finished," she says.
Dengue Fever gained notoriety through shows in L.A. and San Francisco, where, Holtzman says, some members of the audience were already familiar with '60s Cambodian pop through the mysterious Cambodia Rocks compilation album released at about the same time. Those songs, rumored to have been created in the late '60s and early '70s by an aristocratic Cambodian brother and sister, sound as if they came straight from a California beach, and you can imagine young Cambodians of a different generation dancing the twist, heedless of the war raging next door in Vietnam and innocent of the bombing and genocide to come.
Cambodia Rocks, rediscovered and revived in Cambodia's peace of the '90s, informs much of Dengue Fever's music. "I feel like we were a breath of fresh air for the music scene. The music has been fun to play. There's lots of weird walk downs, lots of stops. There's heads that everyone will hit at once," Holtzman says. "The covers were cool to do, but now that we've been a band for a while, we have kind of found ourselves."
The band has also covered Joni Mitchell's "Both Sides Now," translated into Khmer for Nimol. The song appears on the soundtrack to Matt Dillon's 2003 movie, City of Ghosts.
A new album, Escape From Dragon House, came out last fall and consists mostly of original songs in Khmer with some English choruses and verses (band members write the lyrics in English and then have them translated into Khmer for Nimol).
The band will play the Attic on March 12, and if past shows are a predictor, Nimol will be wheeled to the stage in a bicycle taxi, decked out in an elaborate neon-colored gown. The formal, elegant style of dress is a welcome holdover from the pop scene in Cambodia, where nightclub singing is taken seriously, monthly illustrated magazines are intensely devoted to singing celebrities and Saturday television extravaganzas feature bright lights, fancy costumes and rapt audiences.
Nimol says she has long been a fan of Celine Dion, even before she moved to the United States, and she says her style of singing has changed a bit with Dengue Fever. In Cambodia, she sang only slow love songs. "But here I sing rock and pop, because people in the United States, they like pop. I still like the romantic songs, though.
"It seems that Americans do not care whether they understand the language in a song. The important thing for them is the beautiful voice," she says. "They listen and I dance the Khmer art dancing."
---
Dengue Fever appears Sunday, March 12, 8pm, at the Attic, 931 Pacific Ave.,Santa Cruz; tickets $10 adv/$12 door; 831.460.1800.
---
[ Santa Cruz | Metroactive Central | Archives ]