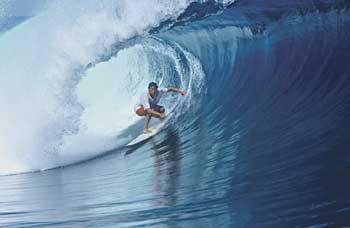 Surf Shooter: Josh Pomer slips out from behind the camera to catch a wave in Tahiti.

Rogue Waves

Santa Cruz surf filmmaker Josh Pomer rides the big screen at the Rio

By Leyna Krow

'I started out just by filming my friends, and my friends ended up being some of the best surfers in the world," says surf filmmaker Josh Pomer, who returns home this month for the premiere of his new film, Destination Point, at the Rio Theatre.

Indeed, with friends like surf acrobatics sensations Jason "Rat Boy" Collins, Sean "Barney" Baron and Peter Mell, the fledgling filmmaker didn't have to look far to find inspiration. "Basically, I just wanted to show the whole world what was going on in Santa Cruz, because no one even knew what was happening at that time," says Pomer, who first discovered his passion for filmmaking in his high school video production class at Santa Cruz High.

From these not-so-humble beginnings, Pomer's love of surfing has taken him around the globe in a quest for footage of the best surfing at the biggest waves. In that spirit, Pomer's latest creation, Destination Point, chronicles world-class surfing from the California coast--including footage from last month's contest at Mavericks--to the North Shore of Oahu, as well as "secret spots" in Mexico and Indonesia.

With his own footage blended seamlessly with film stock of California surfing greats from the early 1960s, Destination Point is being hailed as an artistic leap forward for Pomer. While his previous works, most notably the The Kill series, have been well received in the fanatical world of surf films, Destination Point shows a more refined touch in both Pomer's editing and his eclectic choices for the soundtrack.

The music of Destination Point ranges from rock to reggae to furious punk, giving each scene a distinct feel. "I just try to get a feeling for the session," says Pomer. "If it's a real agro session with lots of airs and stuff, then I like to put faster music. But if it's like a more mellow soul session with long, perfect waves and long tubes, then it's kind of fun to mix in a slower beat."

Although he's only just finished Destination Point (he continued to make changes to the film up until the day of its first showing in La Jolla on Feb. 16), Pomer has already begun work on his next film, a documentary.

"I'm trying to step up my game a bit and tell more of a story," he explains. "Destination Point doesn't really have a story. It's just some of the best surfing from California and around the world in the last two years."

Pomer, an avid surfer himself, currently divides his time between Santa Barbara and Santa Cruz. "In Santa Cruz you can surf pretty much every single day. It's just incredible up there," says Pomer. "I've made over 15 videos, and every one of them has footage from Santa Cruz."
---
Destination Point, Friday, March 10, 7 and 9pm, at the Rio Theatre, 1205 Soquel Ave., Santa Cruz. For tickets call 831.423.8209.
---
[ Santa Cruz | Metroactive Central | Archives ]