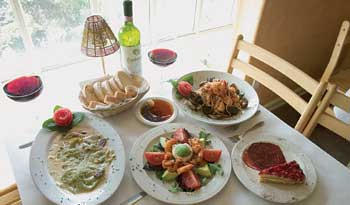 Photograph by Stephen Laufer

Shining Stars: Ravioli del Giardino, Avocado Gamberetti, Spaghetti Del Mare and the dessert du jour all vie for your attention.

A Winter's Tale

Like Santa Cruz itself, Star Bene warms the heart while lightening the wallet

By Selene Latigo

It's almost a cliche to discuss the cost of living in Santa Cruz and why we all put up with it. The exhausting work we do just to make rent is mysteriously balanced in our minds after one glittering glance at the ocean or a gulp of redwood-fresh air. The treadmill runs on and on, simply because this truly is our own little piece of paradise. Recently we experienced a microcosm of this Santa Cruz experience within the walls of Star Bene. Quaint and classy, this inviting restaurant offers good enough food at typically high prices, embodying the cost to quality issue we face on a larger scale every day.

Emily, Dave and I craved warmth on Friday night. With a prediction of snow, our bones were chilled and all we wanted was a cozy meal and some warming wine. None of us had been to Star Bene in quite a while, and agreed that the cute cafe seemed like a suitable winter night destination. The place was buzzing with activity, full of couples, surfers on dates and a few families. We joined them, pleased by the heat that enveloped us as we sat down at a white-linen-dressed table under Italian cinema posters and maps. The bright track lighting had an uneven effect, casting a gentle glow to the outer seats while spotlighting the inner ones a bit too brightly.

The wine list features two sections, the Italian and the Californian, all above $30. We chose the 2002 Costera Argriolas from Sardegna ($32), a lesser-known region that we were excited to try. Bright with Marionberry and spice, it grew even better with food. Not until we all had our glasses full and ordered our appetizers did we get a basket of bread along with a colorful dipping trio of fresh minced garlic, tapenade and chopped sun-dried tomatoes swimming in buttery olive oil.

Our two starters arrived promptly, both decent in portion. The Caesar salad ($6.50), always a test item for me, was crisp and evenly dressed but without much distinct garlic, lemon or anchovy flavor. Meanwhile, the calamari fritti special ($10.50) was a tender combination of rings and whole baby squid, coated in a highly seasoned breading and fried. Two unexciting sauces accompanied the greasy special, along with a "Sunkist" printed lemon wedge. Perhaps the lemons are the 1 percent left out of the 99 percent organic produce claim on the menu.

For an entree, Dave chose another nightly special, the classic lasagna ($16.50). One simple rectangle of layered house-made pasta, ground pork, beef and cheese, all covered in a straightforward marinara. The sauce was a fresher variety, not the multiple-day-simmer style that Dave grew up on and expected.

I chose the ravioli del giardino ($17.50), just one of over 15 primarily homemade pasta dishes ranging from standards like cannelloni, spaghetti puttanesca or fettuccine alfredo to more unique items such as my selection or the penne di Santa Cruz with smoked salmon and crème fraîche. The green pockets of al dente pasta held smooth and delicate carrot and ricotta filling, all drenched in a rich cream sauce with leeks and whole pecans. With a sprinkling of Parmesan and some black pepper, these ravioli became the winner of the table.

The pollo saltimbocca ($18.50) was Emily's visually appealing entree with fresh vegetable sides of crisp broccoli, yellow squash with basil and a fluffy pile of polenta. The chicken was on the dry side, although beautifully rolled with prosciutto and melted mozzarella. A light white-wine sauce finished the dish, adding a nice acidic balance.

We decided to prolong our meal with coffee and dessert, not too eager to go back outside. The tartufo ($6), a large ice cream version of a truffle, was light and mousselike with prevalent hazelnut flavor, an eggy vanilla custard core, all dusted with cocoa powder. We reluctantly rallied ourselves out the door into the cold, stopping at the candy bowl for one last Italian treat.

A look at Star Bene's lunch menu reveals lower-priced deals, something I will return for with a better feeling of value. Overall, we found a warming and pleasant meal at Star Bene, a bit overpriced for the quality, but completely normal here in our shining star of a town.
---
Star Bene
Address 2-1245 East Cliff Dr., Santa Cruz
Phone 831.479.4307
Hours 11:30am-2pm Mon-Fri; dinner nightly 5-10pm
Price $5-$22
---
[ Santa Cruz | Metroactive Central | Archives ]