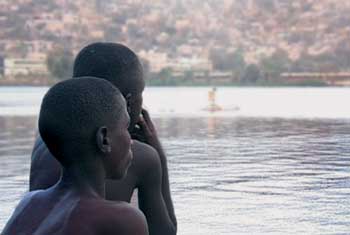 Oscar Contender: 'Darwin's Nightmare,' 'Murderball,' 'Enron' and 'Street Fight' were all trampled by penguins on Sunday.

Nightmare Vision

Oscar-nominated documentarian Hubert Sauper investigates globalization's effects on a poverty-stricken population

By Leyna Krow

'What do the planes bring?" asks director Hubert Sauper. "When the planes come from Europe, what do they bring with them?" These are the questions that haunt the characters in Sauper's Academy Award-nominated documentary, Darwin's Nightmare, as they watch hulking cargo planes fly in and out of poverty-stricken Mwanza, Tanzania, on the banks of Lake Victoria.

Darwin's Nightmare is a story, oddly enough, about a giant fish. The Nile perch, which was introduced to the lake in the 1960s, is the cause of Mwanza's crippled economy, as well as its savior. An extremely successful predator, the perch has managed to consume almost every other lifeform inhabiting the continent's largest lake, except the crocodiles. With nothing left in the lake, the city is now beholden to this creature, which is fished in mass quantity, sliced into fillets and then shipped via Russian cargo plane to be consumed by 2 million Europeans per day. What little meat clings to the head and skeleton after the fish is filleted provides food for the Mwanzan locals.

According to Sauper, "The film is not an attempt to show extreme poverty, but poverty does expose itself to you when you are doing this kind of work."

As it follows the fish from the lake to cold storage in the belly of a plane, the film also chronicles the stories of the people who depend on the fish for their survival. From a factory owner in a sterile office to the orphaned children of fishermen huffing homemade glue, Sauper provides an unflinching account of globalization in Africa.

Through his account, Sauper makes it clear that where hunger and instability reign, violence cannot be far off. In the words of a security guard who obtained his post after his predecessor was hacked to death while on duty, "Many people hope to have a war, especially in our country."

Ultimately, this is the answer to Sauper's persistent question. What do the Russian cargo planes bring in to Tanzania? Violence--both as a harbinger of Northern influence and as a literal mechanism. Weapons are smuggled into the country through Mwanza's unregulated airstrip by the same planes that take the Nile perch back to the affluent tables of Europe.

Sauper, a native of Austria who now resides in Paris, is no stranger to the problems facing Tanzania. His 1997 film Kisangany Diary, which follows a group of Rwandan refugees who fled to the nearby Democratic Republic of Congo in hopes of finding aid, was made in Dar es Salaam. Accustomed to the challenges of filming in a Third World country, Sauper was prepared for the hostile bureaucrats and red tape he and his small crew encountered throughout their stay in Mwanza.

"Almost every day we would have problems with political or military authorities," Sauper says. "They didn't understand what we were trying to do."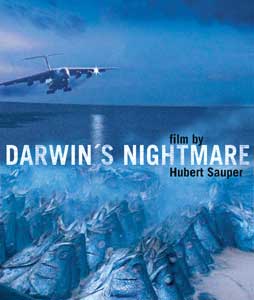 Lake Woebehere: Tanzania's Lake Victoria has brought locals both salvation and destruction.
Despite delays in shooting and frequent setbacks, Sauper stuck it out, lingering in Tanzania for almost four years collecting footage and conducting interviews. "I base my films on encounters, not on general findings," says Sauper.
UCSC community studies professor B. Ruby Rich says this is what French filmmaker Jean Rouch called Sauper's "cinema of contact," his willingness to connect with the people he is filming. "He's absolutely committed to these issues and these approaches to filmmaking," she says.
Rich was so impressed with Sauper and Darwin's Nightmare that she and the UCSC Community Studies Department have organized a free screening of the documentary at the Del Mar on March 8, which will be followed by a question and answer session with Sauper himself.
"It seemed to me that the [film's] subjects--the perils of globalization, the human face of social disaster, the revived sense of internationalism--would resonate with the Santa Cruz community," says Rich.
Although Darwin's Nightmare offers no suggestions for how Tanzania might combat its social disaster (even the pilot who delivers the illegal guns claims to be at a loss about what can be done to help these people), it is Sauper's belief that audiences will take it upon themselves to look for answers.
"After seeing the problems of globalization," says Sauper, "people feel a certain urge to find solutions."
---
Darwin's Nightmare, Wednesday, March 8, 9pm, Del Mar Theatre, 1125 Pacific Ave., Santa Cruz. Screening is free, with a director's Q&A session following.
---
[ Santa Cruz | Metroactive Central | Archives ]