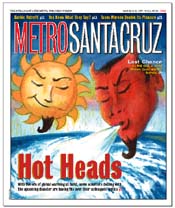 For the Week of
March 13-19
Cover: Hot Heads
With an era of global warming at hand, some scientists dealing with the upcoming disaster are having fits over their colleagues' antics.



Barbie Retrofit: The Great Barbie Makeover transforms the real doll Barbie into a real woman.



Fleeced!: Two black sheep find warmth by getting under each other's skin in 'The Woolgatherer.'



We, Too!: As downtown SC's only late-night arts-and-eats emporium turns a year old, all indications suggest that So Say We is here to stay.



Notes From the Underground: The kids take one more shot at getting off the streets.



Virtual Paradise: We've got the whole world in our hands.