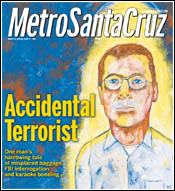 For the Week of
March 17-24, 2004
Cover Story: The Accidental Terrorist:
One man's harrowing tale of misplaced baggage, FBI interrogation and karaoke bonding.
Nüz: A giant fish sculpture is one of the strangest things seen floating in the San Lorenzo River (if you don't count the entire backyard that came floating down that one El Niño year).



Life in the Fast Lane: The SC Surf Kayak Festival at Steamer's put the sport on the map. Can it survive its own success?



Canadian Sunset: A Quebec professor goes in style in 'The Barbarian Invasions.'



Bone of Contention: Fishbone are still trying to get the recognition they deserve.
The Rock Show: The Devil Makes Three; KEBV; Le Scrawl; Restarts.



The Pizza With No Name: Anonymous slices? Pingpong? Engfer's is making its mark with a touch of the unusual.