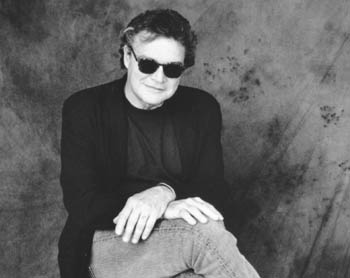 Photograph by Todd V. Wolfson

Tex Max: Terry Allen is already a singer, a songwriter, a visual artist and a playwright. What in tarnation will this guy do next?

Rebel Y'all

Texan Terry Allen mixes roots-rock music and NEA grants, and he doesn't give a damn what anyone thinks about it

By Steve Palopoli

THERE'S A LOT of pressure on Terry Allen. What can one possibly say when forced to shoulder a legacy like that bestowed upon him in the All Music Guide: "There may be no greater maverick in all of late 20th-century music."

Not to worry, though--Allen delivers his official response in impeccable maverick style. "Fuck you," he says. Then he bursts out in laughter.

This is the drier-than-Lubbock wit of a man who, in his music as much as in person, always seems to be a couple of steps ahead of everyone else. But as much as he's willing to poke fun at his own uncompromising image, that same deadly sarcasm is exactly what keeps re-enforcing it in a music world that has been absolutely baffled by Allen, who continues to release acclaimed album after acclaimed album of Texas-brand Americana music while earning himself a Guggenheim fellowship and three NEA grants as a visual artist--all the while tossing killer barbs at the record industry and Nashville pop-cowboys in songs like "Gone to Texas."

Of course, if you really want to know how devastating Allen's wit can be, just ask his friends. One particular weekend of cutting comments at the home of fellow Texas singer/songwriter Robert Earl Keen earned him the printing up of buttons that proclaimed in bold letters Fuck Terry. Could he take it as well as he dishes it out?

"Oh, I saved up a bunch of 'em," says Allen. "I pass 'em out periodically--just wishful thinking."

All joking aside, Allen is just fine with the "maverick" tag, numbering as he does Lou Reed, Dylan and Hank Williams among his top musical heroes, and having long been associated with the school of Texas rebels that includes his Lubbock compatriots Jimmie Dale Gilmore, Butch Hancock and Joe Ely.

"I've always tried to be and I've always admired people that were independent with what they did," Allen says. "Especially in a time that seems that seems pretty much focused on pushing everybody into the same slot, the same labels and so forth. I've never been interested in that. I've always been interested in the curiosity--where your ideas and your feelings and your need to make something take you."

Fans have little fear of Allen falling into any slot. While many have discovered him through Keen's cover of "Amarillo Highway" or his collaborations with David Byrne and Lucinda Williams on his 1996 album Human Remains, those who have spent a lot of time with his work--from the landmark 1979 album Lubbock (On Everything) to '99's Salivation--have discovered that Allen's roots-rock sound is nothing if not eclectic, while his story-songs about everything from "a one-legged woman on the dance floor" ("Peggy Legg") to "The Wolfman of Del Rio" are often as moving as they are hilarious, but always served up with deadpan delivery.

Then of course there's his visual art. Allen is working on a project called Dugout, an exhibition in three parts. The first is a display of drawings and constructions based on stories from his childhood, most about music and baseball. The second part is a video installation and the third is a musical theater piece. Allen has written for theater twice before, including the play Chippy, co-written with Hancock and Ely.

"I've always been real interested in theater, because it's kind of where everything can happen--music, visual, writing. Everything can come under the same roof," says Allen. "I also like the idea that the end product is a memory; there's not an object, it's just something that they carry away as a memory."

On the whole, though, he says he doesn't make a lot of distinctions as he moves between his work on songs, plays, paintings, sculptures, video and whatever else.

"Certainly it's a different way of presenting information, but it's coming from the same source, the same need, and I've just always kind of worked that way. I'll sit down to make a drawing, and next I'll be working on a song, or vice versa."

Allen has also planned an extended trip through California, including of course, a stop in Santa Cruz, which he says reminds him of his favorite Texas artist towns because "people are really stoned." It's a nice break, he says, from Santa Fe, where he now maintains his art studio. "They can't even get across the street to get stoned here, man," he says. "They have to channel their way to the dope."
---
Terry Allen plays the Kuumbwa on Wednesday, March 20, at 7:30pm. Tickets are $21; call Snazzy at 831.479.9421.
---
[ Santa Cruz | Metroactive Central | Archives ]