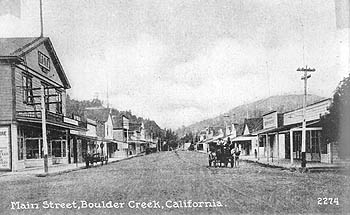 Covello & Covello Historical Photo Collection

Boulder Creek: According to Don Clark's 'Santa Cruz County Place Names,' the finest and most reputable of the very few books dealing with our history, the town was originally just called Boulder. It was incorporated as a town in 1902 and unincorporated in 1915. He doesn't say why. The town dates back to the 1860s when Joseph W. Peery had a water-powered sawmill on the San Lorenzo River. The town was named after the boulders in the creek, or duh, as we say nowadays.

Bruce Bratton

MOTORCYCLES ON PACIFIC? Why are those very loud, very pollution spewing motorcycles being allowed to ruin all the good things that have been created on Pacific Avenue? There must be some noise level law they're breaking, and businesses can't possibly want that exhaust and ear-shattering sound, so how come? The motorcycle crowd that rev engines and roar through downtown certainly aren't shoppers, so why are they tolerated? I'm betting the police would say it's because the City Council hasn't told us to enforce those particular laws, or that no one will file complaints, or the courts won't back up any arrests. Seems like it would be a good political campaign issue if nobody else is willing to step forward before September.

DARK PLEASURES. Robert DeNiro and Eddie Murphy are both embarrassingly bad in a film that is even worse: Showtime. The funniest thing about this film was the guy snoring in the theater while we were watching. Everybody around him kept laughing more at him than the screen; they were probably jealous. Ice Age is No. 1 at the box office and it's pretty good but still no Shrek or Monsters, Inc. The animation of humans in Ice Age is a real problem, but the artistic techniques of rendering water and clear ice are amazingly good. Andie MacDowell doesn't do much in Harrison's Flowers. The Croatian war scenes are as realistic as any war film we've seen yet. But the film lacks believability, and you don't need to see another war film. Kissing Jessica Stein has two themes, lesbianism and Judaism, and it's a comedy. A sort of Woody Allen, Lisa Kudrow nervous, anxious comedy. The ending sells out all the potentially interesting statements that the film seemed to be making--don't bother.

HARBOR NAME CHANGE. It seems that the name Santa Cruz Harbor is confusing, according to the U.S. Board on Geographic Names. That's because Santa Cruz Harbor really applies "to the large embayment within Monterey Bay." So the current thinking is to call it Santa Cruz Anchorage, so that ships and small boats will know it means they're welcome there. Santa Cruz Small Craft Harbor is too limiting a name. I was thinking that maybe Port Santa Cruz would work. Sanctum Santa Cruz? Santa Cruz Quay, or Key Cruzo--what else comes to mind?

WHAT OSCARS? Lisa Jensen, UCSC's Amelie Hastie and yours truly said all we had to say about this year's Oscars show on Wallace Baine's Talking Pictures program last Sunday on KUSP. It's fun, ridiculous and about money, not quality, and we wouldn't miss it for anything.

COLLEGE NAME CHANGE. UCSC's new colleges 8, 9 and 10 appear to still be officially nameless. Geoff Dunn again weighs in with Malcolm X for College 10. Dan O'Kelly says that Martin Luther King is already being considered for 10, Rachel Carson College for 8, and Mahatma Gandhi College for 9. It does some good just to raise consciousness in thinking of these names as potential tributes.

AGAMEMNON RETURNS. Nigel Sanders Self is directing Agamemnon and has added Sara Wilbourne, Santa Cruz Ballet Theater, live vocals and some multimedia projections. Added to those attractions, Simon Kelly and Paul Lee are acting in Agamemnon. It will be one of those rare chances to throw organic fruit and vegetables at Paul and not be in danger of getting hugged. The play is also part of the Santa Cruz Digital Arts Festival and happens on UCSC's Second Stage April 5, 6, 12 and 13. For a full, very full and complete explanation of the festival visit www.santacruzdigitalarts.org.

SURFER NAME CHANGES. David Meyberg claims he really knows, and that a group of surfers is properly called a pack. Jim Sowerwine says the real term is lineup. Steve Senko tells us the accepted name is actually a crew. Well, at least we have that settled, so far.

ART & MUSIC EVENTS. The Phoenix Gallery's rebirth show happens this Saturday and Sunday 11am-5pm at its 980 17th Avenue studios. Proceeds from the women artists' works will help Beth Shields buy new art supplies after her fire. Electron Salon happens this Sunday at 8pm (what Oscars?) at the Rio Theatre. It's computer graphics plus music. They call it a "tiny festival of esoteric music" or Woodstockhausen. It launches the Santa Cruz Digital Arts Festival. More at woodstockhausen.com.

DR. HELEN CALDICOTT RETURNS. The Resource Center for Nonviolence is presenting her at the Theatre Del Mar in the Grand Auditorium Wednesday April 3 at 7:30pm. Her topic will be "Why We Can't Let the Military-Industrial Complex Determine Foreign Policy." Call the Resource Center at 423.1626 or go www.rcnv.org for tickets and info.

NORTHERN HARMONY CHOIR. This choir and musicians from Vermont are being presented by the Community Music School. On Sunday April 7 at 7pm they'll be singing and playing traditional music from around the world and "throughout the centuries." Songs from the Caucasus, Georgia and Bulgaria, harmonies from Corsica and Sardinia, American Shape Note singing, Italian medieval music and other such things will be performed. They're on a rare tour, and if you have any of their CDs you know how good they are. Call 427.2980 for tickets and info.

DOWNTOWN CHANGES. Peter Eberle, executive director of the Downtown Association, of Santa Cruz handed in his resignation on Tuesday. There had been rumors around town that he felt he'd done about as much as he could do here and it was time to move on. At the same DTA meeting, Coleen Crosby, owner of the Santa Cruz Coffee Roasting Company, was elected president of the DTA. She said not only was she delighted with the new board members but that the new director search would get underway ASAP. Eberle has been a very political executive director and had become an almost official member of the Downtown Commission and other official boards due to his regular attendance on the DTA's behalf.
---
Reach Bruce at [email protected] or 457.5814, ext. 400.
---
[ Santa Cruz | Metroactive Central | Archives ]