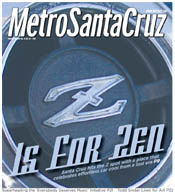 For the Week of
March 17-24, 2004
Cover Story: Z Is for Zen:
Santa Cruz hits the Z spot with a place that celebrates effortless car cool from a lost era.
Nüz: Longtime KUSP station manager and local arts fixture Peter Troxell passed away.



Memory Dump: A heartbroken Jim Carrey can't seem to let go of Kate Winslet in 'Eternal Sunshine of the Spotless Mind.'
Into the Past: Medieval actors catch the conscience of the past in 'The Reckoning.'



Are You Exspearienced?: Michael Franti and Ziggy Marley unite to form the flat-out healthiest tour this world has ever seen.
Closer to Fine: Todd Snider is just happy to be here at all.
The Rock Show: The Levis; Fishbone; Keller Williams.



This Ain't No Bake Sale: Aptos Academy goes Greek for another of its innovative international fundraisers.