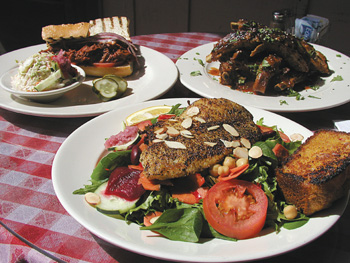 Photograph by Nadine M. Kelley

Meat Up!: Saddle up for lunch with a Washtenau Salad (Blackened Tilapia with coconut chile vinaigrette), ginger ribs and good ol' Sloppy Jed.

Cowboy Up!

Buffalo burgers, yam cakes and the obligatory Sloppy Jed win over the greenhorns at Felton's Cowboy Bar and Grill

By Selene Latigo

On a Sunday at 11:30am, the decision between breakfast and lunch can be difficult. After a wet and windy drive to Felton, we were posed with this choice at the Cowboy Bar and Grill, where, as a group, we had to choose one or the other, but not both. The chilly wood-floored dining room and bar, complete with pseudo-cowhide tablecloths, horse paintings, fresh roses and Western movie posters, was practically empty except for the few regulars on bar stools. Regardless, the no-nonsense server said that they couldn't manage to offer items from the small breakfast menu (with scrambles, "spuds," steak and eggs or beignets with jalapeño whipped cream) in addition to the longer, meat-heavy lunch and dinner menu (with salads, sandwiches, burgers, steaks and sides).

The four of us seated ourselves and briefly looked over both menus, going for lunch because there were more options available. Despite the restrictions, we were allowed to enjoy the "Sunday Happy Hour" from 9am to noon, featuring special "cowboy libations" like the "Texas Tea" or the "Cowpaccino" at lower prices. Andrew chose the brightly colored Sauza Sunrise ($5) while Dave ordered a Sierra Nevada pale ale ($3.50) on tap. The full bar is amply stocked with dozens of tequilas and bourbons as well as some local wines to create quite a drink list.

Upon demand by Andrew and Leigh, who have visited the Bar and Grill several times, we started with an order of yam cakes ($5), four nicely presented sweet and soft orange disks, lightly browned, not greasily fried, served with ranch dressing and gooey sweet jalapeño sauce.

The boys also ordered cups of clam chowder ($2.50), the soup of the day, which was full flavored with ham, pepper and corn. Leigh and I split a side of coleslaw ($2), but we both found it lacking on all counts, which turned out be our one and only food complaint.

The menu is laden with quirkily titled dishes, matching the décor of this casual cowboy-themed diner. Our four selections were all large portioned and served with fries or a scoop of garlic mashed potatoes. Dave's "Yahoo Plate" ($18) was two meals' worth of smoky pork spareribs in a tomato-based barbecue sauce. They were tender and succulent with just the right fat ratio, and not cloyingly sweet like some barbecue sauces. His thick mashed potatoes were delicately seasoned with garlic, pepper and a sprinkling of scallions but needed a shake or two of salt. A chunk of moist, red-pepper-flecked cornbread also accompanied the platter, with melted honey butter and crisp golden edges.

Andrew went with the "Range Rover" ($10), a half-pound buffalo burger with Swiss cheese and all the classic burger accoutrements, bumped up a notch with mixed baby greens as opposed to iceberg. His medium specification was right on the mark and a pile of crispy light brown french fries were piled alongside the large burger.

My blackened Tilapia fillet sandwich ($12) was an excellent cut of fresh and flaky white fish, coated in a peppery and deep spice rub on a chewy steak roll. The spread of green pasilla pepper pesto with almond slices delivered a hint of heat, but got lost behind the blackened flavor. My french fries, a shade lighter than Andrew's, were a great salty accompaniment to this big sandwich.

Another selection off the sandwich board was Leigh's "Sloppy Jed" ($8), barbecue pulled pork on the hefty steak roll with her potato choice. Although neither the tomato nor red onion specified on the menu made an appearance, the standout tender meat with barbecue sauce--hearty without the usual greasiness--worked fine on its own.

Our big plates of lunch left us full, so we skipped the caramel apple pie and bread pudding dessert specials. We moseyed on out the door, past the covered wagon kitchen window and a mounted Longhorn head, and said goodbye to the nonchalant staff and locals. The food here is good, with enough combinations to please anyone from a die-hard carnivore to a veggie burger lover. The straightforward yet efficient service, ranch house ambience and barroom chatter create an easy space to spend some time, whether it be over a full dinner, a breakfast beignet or Budweiser at the bar.
---
Cowboy Bar and Grill
Address 6155 Highway 9, Felton
Phone 831.335.2330
Hours 11am-9pm Wed­Mon, 9am­9pm Sun
Price $5-$20
---
[ Santa Cruz | Metroactive Central | Archives ]