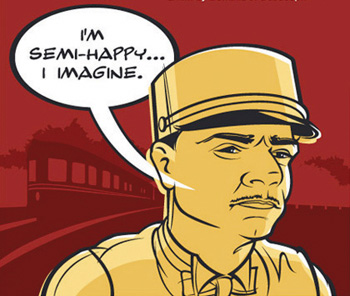 Johnny Don't Surf: Michael Stipe's favorite porter will work his magic at the Santa Cruz Film Festival.

Müz

Coming Attractions

By Bill Forman

ADDICTED TO SURF: When Johnny Berlin director Dominic DeJoseph took the microphone during the Santa Cruz Film Festival's kickoff Shamrock Out party, his first order of business was to apologize for not having any surf scenes in his movie. DeJoseph's diplomacy at the Digital Media Factory may not have been necessary, but it was understandable. After all, not only were numerous surfers represented in the audience, but the previous two previews--Elizabeth Pepin and Sally Lundberg's One Winter's Story (a documentary about surfer Sarah Gerhardt, who was also in attendance) and Anthony Ruffo's The Addicted--were both heavy on the waves.

DeJoseph, a New York City filmmaker who directed R.E.M.'s Bittersweet Me video (and whose feature film was co-produced by Michael Stipe), pointed out that his title character is surfing a different kind of wave: a brain wave that, as it happens, is peculiar to him alone. Johnny Berlin, whose real name is John Hyrns, was inspired to take on his pseudonym in loving honor of the luxury sleeping car for which he serves as porter. The clip DeJoseph brought along with him shows the eccentric Hyrns inspecting bathrooms and beds for pubic hairs (remind me not to shake hands with this guy) and jabbering a mile a minute about his dream of having a traveling troupe of midgets worship him and take him in as one of their own.

Come to think of it, even the surf clips weren't exactly conventional. Black and white footage of Gerhardt becoming the first woman to surf Mavericks featured hauntingly atmospheric original scoring from the filmmakers' friends including, Gerhardt noted, "the guitarist from the Foo Fighters."

The Addicted, meanwhile, is an extremely Santa Cruz-oriented feature boasting footage of both east and West Side surfers--"The whole film is an act of diplomacy," enthused photographer Dina Scoppettone after the screening--set to an onscreen rap by local singer/songwriter Monty Letrell.

This year's Santa Cruz Film Festival, titled Project: Collecting the Consciousness, will take place May 5-13.

FROM WAVES TO REDWOODS: The Festival Glen will be transformed into the Forest of Arden as Shakespeare Santa Cruz prepares for its 25th summer season with repertory performances of 'As You Like It' and 'King Lear.' In addition to Rosalind, Celia and the mad king, Eliza Doolittle will also be strutting through the redwoods courtesy of Shaw's 'Pygmalion.' Subscription tickets go on sale in mid-April.

WHAT A DIFFERENCE A SYLLABLE MAKES: No, Condi Rice is not coming to Santa Cruz, although a quick look at the posters could have you breaking out the placards and searching for the nearest free speech zone. That's actually civil rights activist Connie Rice, who will be speaking April 20 at Holy Cross Hall. The two Rices are, depending on who you talk to, either cousins or second cousins, but unlike the Patty Duke Show cousins, they neither walk alike nor talk alike. Nor, we trust, do they both accidentally refer to the President as their husband.
---
Santa Cruz Film Festival, www.santacruzfilmfestival.com. Shakespeare Santa Cruz, www.shakespearessantacruz.org. Connie Rice, UCSC Center for Justice, Tolerance and Community, http://cjtc.ucsc.edu/
---
[ Santa Cruz | Metroactive Central | Archives ]