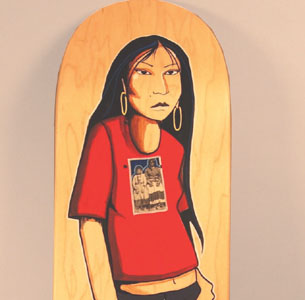 Apache Femme: Sistas are doing it on the Rez.

San Carlos Street Style Rez

An artistic revolution hits the skateboard decks at MAH

By Peter Koht

Once the home of Geronimo, The San Carlos Indian Reservation is known for producing peridot jewelry and jojoba oil. The home of the Apache Nation is also known for chronic underemployment, crushing poverty, high rates of alcoholism and a social structure crumbling under a tribal council accused of rampant, systemic corruption.

Growing up on the rez is a challenge, but San Carlos Apache Douglas Miles has responded by pursuing a project that's part youth outreach, part art. A former social worker and prolific painter, Miles began to work in a new medium a few years ago--skateboard decks--a move that touched off a minor social revolution for the reservation's youth. In honor of this artistic triumph, the Santa Cruz Museum of Art and History is bringing a collection of Miles' work to the McPherson Center beginning April 2.

Anna Castillo, director of education for the museum, sees an even deeper purpose in Mile's work. "His goal is, in part, to help people become aware of the fact that Native American art is a living tradition. It is not static, it is definitely not just teepees and headdresses."

Castillo also believes the medium adds to the immediacy of the art. Skateboarding is highly popular among the teenagers on the reservation, and by embracing and empowering this subculture, Miles has found a way to communicate with a younger generation at risk. As it happens, Mile's first deck was created for his son, Douglas Jr. As Castillo explains, summing up the Apache Skate creation myth: "His son was looking for a new board and went out and looked around town and found nothing. So he came home and said, 'Dad, there really isn't anything out there that speaks to me.' Miles responded by saying, 'Why don't we put one of my images on your skateboard?'"

Miles' skateboards address themes that Apache youth face: coming to terms with their cultural history, the frustrations of living on the reservation and the unique perspective Native Americans have when addressing mass culture. In Castillo's words, Miles is painting "what he sees out his window--an approach that peaked the interest of Pancho Rodriguez, principal of Pajaro Valley High School, when he viewed some of Miles' work in a gallery in New Mexico. and then referred the work to Castillo during a chance encounter. The exhibition, much like its creator, is not static. On May 26, Miles gives a lecture. On May 28, he presides over an skate exhibition featuring his decks that are being utilized by the Apache Skate Team, a group made up of the reservation's finest riders.

Ultimately, Douglas Miles' work is concerned with a culture in motion. His artistic efforts have helped to dispel negative stereotypes about Native American art while positively enhancing the lives of Apache youth. He has taken the most negative assumptions about Native Americans and skateboarders and through a few strokes of the brush turned them on their head.
---
Reservation Radical/Apache Skateboards: The Art of Douglas Miles opens April 2 at the Museum of Art and History, 705 Front St, SC. Tickets $2-$5/students, seniors and general; 831.429.1964.
---
[ Santa Cruz | Metroactive Central | Archives ]