Supply Side: Tawan villagers with supplies, Phang Na Province.

Tsunami Aftermath

One woman's experience of doing direct relief in Thailand--and of finding out what isn't getting done

By Virginia Lee

Most everyone remembers where they were when they first heard about the early morning 8.9 earthquake in the Indian Ocean off Banda Aceh on Dec. 26, 2004, the day after Christmas. In horror, the world watched and listened, whether via television, radio or the Internet, as shockingly vivid and gruesome reports came in about the devastation unleashed by a series of 30-foot-high tidal waves that washed over adjacent islands and crashed into the seashores of Indonesia, Thailand, India and Sri Lanka. Even though more than 250,000 people are dead or missing, with whole villages completely gone, life after the tsunami is infinitely more challenging for those who survived and are trying to rebuild their lives.

Whether by fate or coincidence, local resident Ami Ellenberg happened to catch one of the last flights out of Phuket before news of the tsunami was released. Once in Bangkok, she heard the news and decided to go back to Phuket Island and see what she could do to help.

"In retrospect, it was a huge tragedy that could have been mitigated if communication had worked better," says Ellenberg. But there she was, in the middle of a disaster, and felt a calling to help. Having a long personal history with Thailand, and Phuket Island in particular, she had many friends in the area and needed to see if they were all right. "Looking back. I can see I was meant to be there."

Instead of several days, Ellenberg ended up staying seven weeks longer in Thailand, mounting a personal direct assistance relief program in response to what wasn't being done through international aid organizations like the Red Cross as well as the Thai government. She would learn that most of these well-intentioned relief funds and aid efforts were getting tangled up in bureaucratic red tape, and weren't helping those on the ground who needed it most. But we're getting ahead of the story.

The first thing Ellenberg did when she got back to Phuket was to go to a local hospital to give blood. "Then I spent the next four hours holding the hands of people who had been hurt and were getting their wounds cleaned and dressed," she recalls. "Many had received large gashes and injuries to their lower body, some of which were beginning to get infected. For many, the pain medication was just not enough. My hand was the relief they needed."

She would spend the next few days translating Thai, Thai English and Swedish English, so that the Thai doctors could understand what the foreign patients were saying. She also ended up working the information/translation desk to help tourists and their families find who or what they needed. "There was a mix of locals and tourists in the hospital," Ellenberg explains. Within days of the tsunami, many nations sent their own ambulance planes to take many of their injured and deceased home.

At Phuket's City Hall, which became a center for disaster relief, Ellenberg became part of an international volunteer help desk with phones and computers, helping to compile lists of the injured, dead and missing.

"For a week, I worked at the desk with other foreigners who spoke every language on earth. There were lots of Europeans, Scandinavians, Japanese, Chinese--and Americans." This is where Ellenberg began to collect private funds for the relief effort, initially to buy fuel coupons for the vehicles transporting supplies to impacted areas. She even spent a night at Yan Yao temple, which had been transformed into a morgue, making ID tags for bodies. Before long, Ellenberg extended her stay to three weeks, and then even longer once the magnitude of this unimaginable tragedy was revealed.

At this point, it's important to remember that even though Ellenberg had been doing relief day and night for several weeks, the area where she was working in Phuket Town was still intact. She hadn't yet seen the actual damage of the tsunami for herself. It was more than two weeks before Ellenberg was able to get to the beach areas on the west coast of the Andaman Sea--places like Patong, Kamala and Khao Lak--where she could witness the aftermath firsthand. That's when the real relief work began.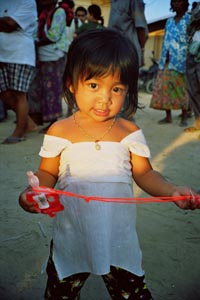 Ray of Light: A young girl, Thap Tawan village, Phang Nga Province.
Once Ellenberg got to the beach areas, she learned that organizations like the Red Cross had hardly done more than initially survey the damage, often by helicopter, bringing little in the way of relief supplies for survivors. "They were gone after about five days," Ellenberg recalls, "and we never saw them again. And I was amazed to learn that the Thai government had refused international aid. It was up to those of us on the ground to do something to help these people." She saw places like Koh Lanta in Krabi Province where 250 families had lost everything and received nothing.
That's when Ellenberg began to mount a private donation campaign via email to friends and friends of friends. "The outpouring of support was amazing, with an abundance of love and concern as well as dollars," she recalls. Within a few weeks, Ellenberg had raised almost $6,000 to buy food, water, cooking utensils, cook stoves, propane, sleeping mats, mosquito nets and tools so that the survivors could start rebuilding their homes and livelihoods. Over following weeks, Ellenberg and a circle of friends raised about $12,000 personally and distributed abut $50,000 worth of supplies to thousands of people in Phang Nga province, Phuket Island and Krabi province. She made at least a dozen trips by truck, van and even by motorcycle. "Because we had raised our own money," she explains, "we could bypass all the red tape and get things to people immediately."
Through this spontaneous relief effort, Ellenberg and her co-workers were able to help people who were falling through the cracks. "You have to remember that these people are not refugees," she points out. Ellenberg realized that the best way to help them was to get them back to work. Chabad Jewish Thailand bought lounge chairs and umbrellas for an entire family that worked the beach, renting chairs, selling drinks and giving massages to tourists. Ellenberg also bought needed water urns and umbrellas for a favorite restaurant at Surin beach that had just reopened. She similarly gave money to street vendors, like the barbecue chicken and papaya salad man, so that they could buy necessary supplies.
According to Ami, in many of the more desirable beach areas, people are not being allowed to rebuild on land where they used to have homes. In some cases, the government is saying that land deeds are either lost or don't exist, giving developers an excellent opportunity to eliminate some populations like the sea gypsies. "The Thai prime minister wanted to clean up Patong Beach anyway. I guess he thought this was a good way to do it," she comments.
In spite of the two-faced nature of government and politics, Ellenberg can still see the bigger picture. "The beautiful part of this experience has been seeing the haves help the have nots," she observes. "I believe that the earth is speaking to us. I see the tsunami as Mother Earth's plea for us to respond to the needs of people everywhere. This wakeup call could inspire the shift in consciousness this planet so desperately needs."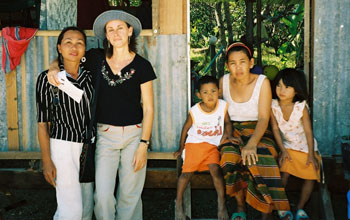 Camp Scene: Ami Ellenberg (in hat) puts arm around Khun Noo who was at a camp in Kamala, Phuket, along with her family.
"But it's not over yet," insists Ellenberg. Ongoing relief is needed to rebuild the homes and re-establish the livelihoods of tsunami victims--and help them deal with the trauma of what has happened. Even the king of Thailand has promised to provide education for orphans of the tsunami up through college. Ellenberg encourages anyone who wants to help to visit her website (www.konthaitijai.com) to donate and find links to worthwhile organizations doing direct aid in Thailand. Literally translated, konthaitijai means "I am a Thai Person in my heart," a phrase Ellenberg began saying to Thai people who asked why she spoke Thai so well. "It began as a humorous conversation, my telling someone that I may be a white girl on the outside, but in my heart I am really Thai," she explains.
"It's so important to ask where your dollars are going," Ellenberg continues. "Often money given to big NGOs [nongovernmental organizations] goes through many pockets before it gets into the hands of those who need it, and for whom it was intended. Only about 10 percent of it actually gets to the people on the ground."
As a result, Ellenberg is continuing to help raise private funds to support three particular projects in Thailand. Friends of Thailand (www.friendsofthailand.org), a group of ex-Peace Corps volunteers, are building schools and supporting children's tuition to attend school throughout areas affected by the tsunami. Another group spearheaded by Bill Francis (www.tsunamihealing.com) is repairing, building and buying boats and supplies for the fishing communities of Krabi Province. And other friends, Robin Plant and Wally Sudik at (www.avcphuket.com/tsunami), are building homes for the local Thais on Phuket Island who've lost everything.
People who want to help can make donations (even $5, $10 or $20) through Ellenberg's website.
"Rebuilding Asia will take years," she encourages. "Please consider making another donation, even if you already have, and know, through these projects, your money will be well spent." Or take a trip to Thailand and see for yourself. You may be moved to do something amazing. Just like Ami Ellenberg did.
---
Ami Ellenberg will give a talk and slideshow presentation on April 12 at the Attic, 931 Pacific Ave., Santa Cruz; 831.960.1800.
---
[ Santa Cruz | Metroactive Central | Archives ]