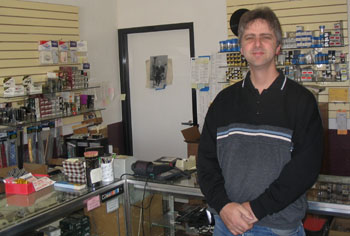 Horn Blower: John Thomas has got the fix for your ailing tuba.

Windy Repairs

Instrument repair specialist John Thomas moves his store downtown

By Peter Koht

John Thomas has pursued a career that isn't likely to be found on the Bureau of Labor Statistics' fastest-growing occupations. For the past 11 years, he has quietly and unobtrusively kept Santa Cruz's wind instruments ready for the stage, its students supplied with rentals and its musicians well read.

"Very few jobs have been so unaffected by technology. The basic mechanics of instruments hasn't changed much. You don't have to worry so much about next year's model," says Thomas, who started his repair business out of his house in Felton in January 1994.

"I was working for Four Winds Music, which is where I did my apprenticeship," recalls Thomas, who expanded his business into a repair shop on Soquel in April 1995. Four months later, he bought Four Winds Music, renamed it and moved it to his place on Soquel. It was a bold business move, whose terror and strain was remediated in part by there being enough space at the new location to let Thomas live above the shop.

"It was the best financial option at the time," Thomas remembers. Though it worked for the first few years of the business, Thomas' apartment was soon filled with instrument cases, sheet music, accessories and other byproducts of a growing business. Even after he moved out, the business kept expanding. Eventually, Thomas had to look for other spaces to park his brass and this month, he and his crew cleaned out the old building and shipped its contents downtown to Front Street.

"With the traffic patterns in this town, there is no such thing as Nirvana locationwise, but downtown has really come back to life. People will probably be more comfortable coming downtown to visit the shop rather than having to make a one-time trip for one item at our old location."

Those special trips have paid off for hundreds of local horn players. In an area crammed with such renowned string makers as Jeff Traugott and Kenny Hill, Thomas runs the only full-time horn repair business in the Monterey Bay area.

"So much of the pleasure I get out of what I do comes from both the customer and the instrument. If someone really loves their instrument and you bring it back to life and the instrument comes out well, then you get real enjoyment out of that," says Thomas, who is one of the area's top trombone and tuba players, and conducts the local wind band.

"It's a community concert band that has people in it all the way from high school kids to senior citizens. It's great fun." Much like the rest of his life.
---
Thomas Musical Instruments 428A Front St., Santa Cruz. Open 11am-6pm Mon-Fri, 11am-5pm Sat, closed Sun. 831.425.0110; www. thomasmusical.com.
---
[ Santa Cruz | Metroactive Central | Archives ]