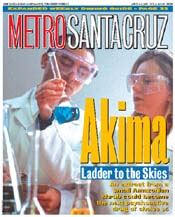 For the Week of
April 1-7, 1998
April Fool's: Akima
An extract from a small Amazonian shrub could become the next psychoactive drug of choice.



Night Howl: Local dance studio celebrates its first birthday in a most moving style.



Pet Sounds Redux: Apples in Stereo, Tommy Keene and You Am I are just a few of the new pop bands trying to recreate the magic of the Beatles and the Beach Boys.



Sayles Job: In Men With Guns John Sayles travels to the troubled hinterlands of Latin America.
Inspired Chaos: Animated shorts in General Chaos: Uncensored Animation are silly, sensuous, sick and sordid.
Gloom With a View: Rage boils over in Gary Oldman's Nil by Mouth.



Are You What You Eat?: Chewing the fat over food morality.