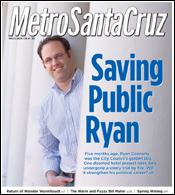 For the Week of
April 6-13, 2005
Cover Story: Saving Public Ryan:
Five months ago, Ryan Coonerty was the City Council's golden boy. One doomed hotel project later, he's undergone a steely trial by fire. Will it strengthen his political career?
Occupational Hazards: Houston-born journalist Dahr Jamail comes to Santa Cruz to talk about yet another casualty of the Iraqi occupation--truth in the media.
Nüz: Return of Wonder Wormhoudt; Zoned Out; Who's Your Unembedded Baghdaddy?; SCFF Kickoff.



Rev: Animal Highway: Bugs meeting cars isn't a new thing. I have heard of drivers meeting up with mass migrations of tarantulas and grasshoppers, too.



Spitting Devil: Hitler and his Reich minions die like poisoned rats in a bunker in 'Downfall.'



Odysseus Would Be Proud: Musical Argonaut Mickey Hart sets out on a new adventure.
Fire Starters: Will sparks fly between Beaux Arts Trio's pianist Menahem Pressler and violinist Daniel Hope at UCSC this weekend?
The Rock Show: Handsome Boy Modeling School; Kenny Garrett; the Attic.



Budding Selections: Pinot Paradise. Herbed fries. Urban wine tastings--everything for the spring palette.



Real Time With Bill Maher: Bill Maher slaughters sacred cows, but stands up for the ethical treatment of cattle.
Copyright © Metro Publishing Inc. Maintained by Boulevards New Media.