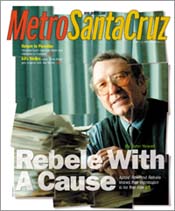 For the Week of
April 7-14, 1999
Cover: Rebele With a Cause
Aptos' Rowland Rebele knows free expression is no free ride.



All's Welles: Local Little Shop of Horrors gets original with Mel Welles.



Art & About: Summertime is just around the corner.



Notes From The Underground: At the Aptos Club, Seattle's Zeke wound down a week of hard-rocking shows.



Return to Paradise: Paradise Sushi matches flavor and freshness in Capitola.



Behind the Lines: Local documentary filmmaker Bob Gliner chronicles societies in flux.
All Bottled Up: Ken Loach turns the camera on a dirty and sober life in My Name Is Joe.
Keep on Truckin': Texans vie to touch the truck of their dreams in new documentary Hands on a Hard Body.