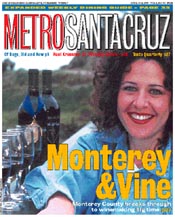 For the Week of
April 9-15, 1998
Cover: Monterey & Vine
Monterey County breaks through to winemaking big time.
News: Beetle Mania
A former Volkswagen mechanic looks beyond the megahype and under the hood to find the soul of a brand-new Beetle.



Night Howl: Ground-breaking Stephen Petronio troupe brings kinetic innovation and style to the world of dance.



Notes From the Underground: Zine world loses one of its best.



Talking Pictures: Satirist Paul Krassner yaps it up on America's adolescence.
Future City: Welcome to Sarajevo doesn't beg for tears or pity.
Nighthawk: Lovers are Happy Together at 3am.



Tales From the Turnip Tribe: Surviving some exceedingly strange encounters of the third-aisle kind at local grocery stores.
Pigs Can Fly: Spice + ham = America's favorite mystery meat.