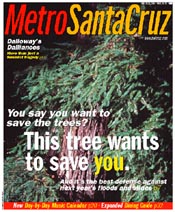 For the Week of
April 16-22, 1998
Cover: Roads to Ruin
Forest preservation isn't just about protecting redwoods. The biggest threat in the woods comes from the mudslides and floods brought by logging roads.
News: A New Look in Town
Metro Santa Cruz introduces a new design, a new logo and an enhanced editorial product.



Night Howl: Spring is in the air and a group of women performers tips its collective hat to the changing seasons with Spring Girl Fest.



Sign of the Woolf: Mrs. Dalloway adaptation evokes muted admiration.
Talking Pictures: English professor and Virginia Woolf scholar J. J. Wilson critiques the screen adaptation of Woolf's stream-of-consciousness novel.
Little Italy's Last Stand: Twenty-five years later, Martin Scorsese's Mean Streets is still the definitive take on New York lowlifes.
The Pain Truth: Bob Flanagan lies and dies in Sick.



Hardcore Pulp: The British band that mooned Michael Jackson holds up the flag for sexy guitar rock.
Notes From the Underground: Traveling noise bands summon local spirits.



Room With a View: Carniglia's on the Santa Cruz Wharf offers some dazzling Italian cuisine in a pretty setting at a languid pace.