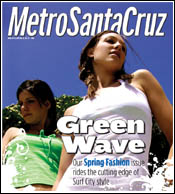 For the Week of
April 20-27, 2005
Cover Story: Green Wave:
Our spring fashion issue rides the cutting edge of Surf City style.
The Silent Tsunami: Local resident Shanti Cliff co-founded a nonprofit that supports pre-existing programs to combat the silent tsunami of ongoing poverty.
Nüz: Putting Out Fires; Tideland Legalese; Self-Made Men; The Future Is Now.



Rev: Real Earth Day: Though I had high hopes the United States would be blessed with the presence of the updated VW Microbus--we've been dissed!



Hardware Wars: Park Chan-wook's cult revenge thriller 'Oldboy' cuts closer to the bone than 'Saw.'



Moanin' Low: UCSC professor Angela Davis makes a radical reassessment of the life and work of Billie Holiday.
Turkish Delight: Guitar master Mesut Özgen's use of classical Turkish melodies inspires a local following.
The Rock Show: Clockwork; Hiromi; Renzo Staino.



Our West Side Gem: Using an imaginative touch, Ristorante Avanti transforms high-quality local ingredients into simple scrumptious elegance.
Copyright © Metro Publishing Inc. Maintained by Boulevards New Media.