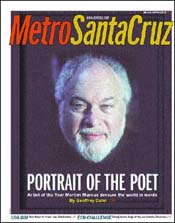 For the Week of
April 21-28, 1999
Cover: Portrait of the Poet
Artist of the Year Morton Marcus devours the world in words.
News: Log Jam
New threat to forest near Headwaters.



Art & About: An outrageously talented floral sculptor gets his due.



Lost in the Many Mixes: The Olivia Tremor Control lays a heavy hand on the mixing board.
Notes From The Underground: Club 138's benefit show brought together some of the best in local DIY punk.



Eco-Challenge: Dining looms large at the eco-friendly Dharma's.



Spinning Wheels: Windhorse is half tourist brochure, half political pamphlet.
Black Forest Hams: A little-known German group performs its hits in troubled times in The Harmonists.