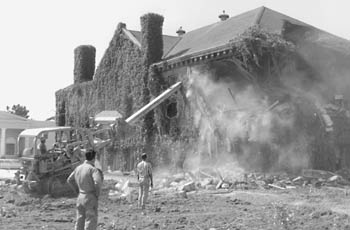 Covello & Covello Historical Photo Collection.

Santa Cruz Library Demolishing, Sept. 12, 1966: Andrew Carnegie donated $20,000 to build our old library. It was designed by William Weeks and opened April 14, 1904. It was on the same site as our new one and you can see the Prophet Elias Greek Orthodox Church in the background. If you're new here, the Greek Orthodox Church used to be a funeral home.

Bruce Bratton

THE NEWEST RITTENHOUSE BUILDING. It's hard to believe but Louis Rittenhouse let his lot at Pacific Avenue and Church Street sit vacant for 11 years. Of course, he fought our Downtown Plaza concept bitterly, and he had 11 years to plan his new building. He submitted his plans for his proposed four-story retail/office building with full basement, first-floor mezzanine and a five-story tower element and a 104-foot flagpole that exceeds the 75-foot limit. Last Thursday, the City Zoning Board looked at his plans and voted unanimously to recommend to the City Council that since the board could not find any exceptional design elements or public benefits from this building that the council should not allow the existing height limits to be waived--in other words, no fourth floor, no tower, no flagpole. I spoke with two members of the Zoning Board, and their comments on the building were: "cheap-looking, ugly, horrific, looks like a fort, looks like the County Building, looks military, shouldn't be there, back to the drawing board, nothing that benefits the public, disappointing, mediocre, we wanted a jewel, too tall, severe design problems, tower is too prominent and the extra height of the flagpole is ridiculous." Beyond that, they said the building materials he wants to use are cheap, and the general plan calls for solid materials like brick and tiles, no Styrofoam or fake brick. Louie's architect and the Zoning Board were surprised that no opponents showed up. Since Louie knows that the public or at least 3,000 petition- signers want a Downtown Plaza at that location, you'd think he'd at least have a setback on the corner like the Cooper House does. Nope, Louie's plans call for building right to the maximum sidewalk space allowed. What'll Louis do next? Quien sabe? Watch this space.

ANNA JEAN CUMMINGS PARK. On Saturday (May 5) at 2pm the county will host the opening of this new park, which is right next to Soquel High School on Old San Jose Road. This park is 83 acres and represents an incredible victory for the Save Soquel group and especially Anna Jean Cummings, who fought developers and won. The battle to keep three developers and a proposed 1,000 homes from destroying the land began back in 1973. It was the O'Neill Ranch, and Save Soquel fought a long and often misunderstood battle to save the land. Soquel still has no malls, just one fast-food place, and the Friends of Soquel Creek are now engaged in opposing the Home Depot attack on the environment. Congratulations to all concerned.

DARK PLEASURES. Any normal human who would willingly pay money to see a film named Driven, released by a company actually named Franchise, that stars Sylvester Stallone and Burt Reynolds, deserves what they get. In addition to that rare level of acting, what you also get is a very predictable race, not really between the stars but between two racing cars labeled Target and Motorola. Driven was of course the No. 1 box-office draw last weekend. Warren Beatty and Goldie Hawn's film Town & Country is just about as bad; resist the impulse to go, no matter what. One Night at McCool's, Liv Tyler's driveling sex film, is right there, too; don't even rent it. Go see Amores Perros, Memento, Bridget Jones's Diary, even Spy Kids instead. I haven't seen it yet, but I predict that Pearl Harbor will be President Bush's and every Republican's favorite film of the year; just watch the box office on this superpatriotic monster mess.

LITTLE-KNOWN TREASURE. Last Saturday's performance by the UCSC Orchestra was wonderful. Nicole Paiement conducted while they played Mozart, Milhaud and a piece by student Dante De Silva. Then they, along with the 25-member chorus, performed excerpts from Donizetti's opera The Elixir of Love. Watch for soprano Jessica Sandidge and tenor Robert Kinar, you'll hear more about them in the near future; they've got fine voices. UCSC's music department is presenting four performances of Elixir: May 31 and June 1-3. Get tickets and info at 459.2159. Every Santa Cruzan who enjoys our symphony and Cabrillo Music Festival should latch onto the UCSC Orchestra.

INSIDE TIP. The Giant Dipper has new (new to me), more body-conforming seats and a beautiful new red-and-white paint job and is more fun to ride than ever. I also want to give my usual plug to the corn-dog stand near the east end of the Dipper. Be sure to order the Polish sausage corn dogs; you have to wait about 10 minutes, but they are a true gourmet delight.

HISTORY HAPPENS. For the first time in history, the Watsonville City Council and the Santa Cruz City Council will have a joint meeting. Richard de la Paz of the Watsonville Council asked for the meeting. It'll happen May 15, 2-5pm, in the Santa Cruz City Hall. Historian Sandy Lydon will say a few words, and Mayor Tim Fitzmaurice told me that the meeting will focus on housing, transportation and community concerns. Tim says we have different ways of looking at issues, and this will be a way to start to understand those differences. I reminded Sandy of the old days when Watsonville would burn the only bridge to South County to keep Santa Cruzans from going south of Aptos. Somebody should take historic photos of this event.

OTHER INSIDE TIPS. Cruzio just celebrated its 12th birthday last Thursday. It was proclaimed for all of history as Cruzio Day by both the mayor and the vice mayor of Santa Cruz. Cruzio told me at the celebration that it's now the informed opinion of high-tech experts that you should shut off your computer (the whole thing) if you won't be using it for more than an hour. If you've ever wondered about Capitola's Rispin Mansion or if you've heard such fantastic things you can't believe them, go see the Capitola Museum's new exhibit on the Rispin. The museum is closed Mondays. Call 464.0322 for details.

THE BEAUTIFUL SAN LORENZO. There are three community workshops planned to help us understand what's been going on with the river plans and to hear what ideas we think would help improve our city's relationship with the much-misused river. The cute acronym for the project is SLURP, or San Lorenzo Urban River Plan, which is just about as dumb. It's hard to live by a river with as much potential and which means as much to our environment as the San Lorenzo does and not wonder who, why and how the river ever got in such poor condition. I've also wondered many times just what the Army Corps of Engineers is, does or is doing to our river. I always half expect to see Army privates in uniforms digging, sergeants shouting, tanks rolling, bugle calls echoing, but it never happens. Anyway, go to the May 2 meeting at Branciforte Elementary from 6:30 to 9pm or the May 10 or May 12 meetings; call 420.5132 to see what you can do.

DEL MAR THEATRE. There's going to be a public meeting on May 15 at 5pm in the Santa Cruz City Council chambers about the progress happening on the Del Mar Theatre. This would be a great time to attend and show your support for saving and restoring the theater. Many other cities have turned their movie palaces into much-used venues, and we have this chance to do the same. Show up and voice your support.
---
Bruce critiques films every other Thursday on KUSP-FM (88.9) at 12:50pm. Reach Bruce at [email protected] or 457.5814, ext. 400.
---
[ Santa Cruz | MetroActive Central | Archives ]