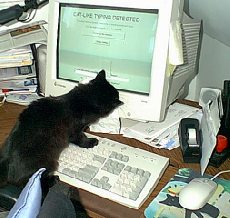 Keyboard Kitties
Oh no! Fluffy retyped my thesis!
By Jessica Lyons
LOLA IS A HELPFUL KITTY. When it comes to cooking, applying makeup and hanging ornaments on the tree, she is always eager to lend a paw, or at least swipe at mine if it stops scratching her head. She's also an avid typist.
For such journalistically inclined meows, there is PawSense, www.bitboost.com/pawsense. PawSense is a software utility that detects and blocks feline typing and trains your cat to stay off the keyboard, via downloadable, earsplitting sounds. How can a software utility distinguish between a cat and a sloppy typist, you ask? According to the experts at PawSense (activate infomercial voiceover here): "If you carefully measure cat paws, you will find that practically all cat paws are significantly larger than a typical keyboard key. ... The cat's paw angles and toe positions also undergo complex changes while the paw lands on the keyboard." Hmmm.
While that wasn't enough to convince me to shell out $19.99 for the whole utility, it did convince me to download two of the free "sounds that annoy cats." It turns out that humans aren't alone in loathing the shrill blast of a harmonica.
Lola's off my desk now. So are my files, loose papers and picture frames. If the harmonica isn't enough of a deterrent, the hissing noise will be. Now if only I could upload the harmonica sound to my mascara wand.
[ Santa Cruz | MetroActive Central | Archives ]