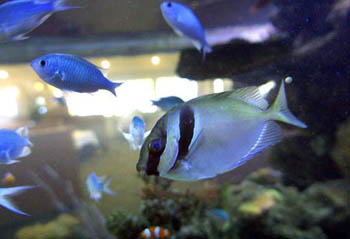 Photograph by George Sakkestad

Through a Fish Brightly: The sun-filled dining room at Sanderlings shimmers in the refractive haze behind the restaurant's new state-of-the-art aquarium.

Resort Appeal

Dinner at Sanderlings provides soothing ocean vistas and a menu to match

By Christina Waters

EVERY INCH the glamorous tennis star on holiday, Simone was visibly impressed by the luscious light filling the dining room. All pale creamy décor, all resort, Sanderlings invites lengthy dining experiences, rewarding its faithful in all sorts of ways.

The service is crisp. The wine list is appealing. The tables are spaced generously enough to invite real conversation--such a relief from the high-voltage noise levels erupting in most contemporary dining rooms.

While living up to its full-service status as a resort dining room, Sanderlings manages a separate identity. Glowing white walls and linens frame the huge windows, possibly the secret weapon of the Seascape restaurant. It's impossible not to be charmed by all that ocean and atmospheric pine forest surrounding Sanderlings.

A friendly staff makes sure that no one feels unattended, and our waiter soon brought our wines by the glass: an excellent Artesa Pinot Noir Carneros 1998 ($9.50) and a Mondavi Chardonnay Carneros 1998 ($8). With the wines came an unusual and delicious hummus laced with garlic and sun-dried tomatoes, plus a freshly baked round of olive-studded bread.

Simone quickly warmed to both the surroundings and her white wine. Simone believes that Chardonnay is really the only wine for a coastal resort setting. Many would agree with her. We both agreed that the refreshingly unpredictable bread was sensational.

The word for our appetizers would be "gorgeous." Arriving on huge square plates, each was stylishly arranged. My French country salad ($10) offered a thicket of slender haricots vert ringed with baby lettuces, delicate halves of boiled eggs, slices of fingerling potatoes and the ubiquitous out-of-season tomato wedges. Everything was dressed in an excellent vinaigrette. Simone's eyebrows rose an inch after she sampled the green beans.

Meanwhile, her plate of scallops was, as she described it, "perfect." A quartet of perfect seared scallops framed a central pillow of mashed Yukon gold potatoes perfumed lightly by essence of truffle. A delicate lobster sauce bathed the scallops. This is a dish I'd come back for--thoroughly satisfying in every way. And yes, somehow the flavors of shellfish and potatoes seemed to go with the seaside resort atmosphere. (Or was it their pale hue?)

"This is not something one would expect at a resort," Simone murmured as she approached her first taste of seared foie gras ($16), a house specialty. "It's so European," she smiled, by way of explanation. Indeed it was, this daring composition of foie gras atop a rich, brown onion pancake laced with the sweet and pungent flavor of rhubarb.

Circular tracery of reduction sauce wove around the plate--very pretty--and Simone, a seasoned veteran of northern European cuisine, admitted that the last bite of foie gras and rhubarb (which came rather quickly given her rapid dining pace) reminded her of a fine sauerbraten.

Meanwhile, my entree creation of filet mignon topped with a single succulent scallop proved a designer surf-and-turf plate ($27). The tender and buttery beef was joined by the world's largest spear of fresh asparagus, some infant carrots and a lovely cushion of mashed potatoes. Napped with a rich reduction of port and shiitakes, the dish exactly answered the call for a sensuous, serious steak. Exactly.

Sanderlings features the excellent locally made Gelato Paradiso, but we turned instead to an order of Chocolate Tower and vanilla crème brûlée (both $6.75). Joined by better-than-average decaf cappuccino, these desserts offered plenty of visual appeal.

The crème brûlée proved overly sweet, due to a thick glaze of burnt sugar, but the cylindrical mousse of two chocolates--dark and milk chocolate--was certainly handsome. With a setting so pampering, no one could manage any complaints. A walk on the beach would be the ideal finish to dinner at Sanderlings.
---
Sanderlings
Address: 1 Seascape Resort Drive, Aptos
Phone: 831.662.7120
Hours: Breakfast 6-11am (from 7am on Sat); lunch 11:30-2:30; dinner 5:30-10pm; Sun brunch buffet 9am-2pm.
Chef de Cuisine: Michael Clark
Ambience: *** Casual elegance
Service: ** 1/2 Friendly and accommodating
Cuisine: ** 1/2 Smart presentation, excellent ingredients
Overall: Elegantly comfortable surroundings lend luster to a well-presented menu of California culinary all-stars
---
[ Santa Cruz | MetroActive Central | Archives ]