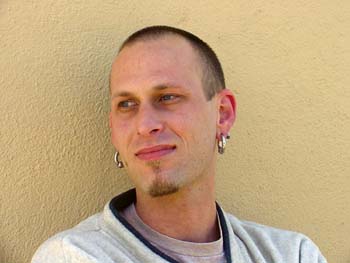 Photographs by Sarah Phelan

The Main Event: Art Main never thought an ancient criminal record would cost him not one, but two jobs.

Kafkaesque

Art Main's criminal history was hardly the stuff of nightmares, until it started hampering his job prospects. Does the same fate await the 19 protesters arrested at Tent University last month? And how do you expunge a criminal record, anyway?

By Sarah Phelan

Eleven days after being charged with trespassing and resisting arrest on UCSC campus, 19 Tent University protesters were finally able to sleep a little easier. The DA's office had decided not to file charges connected to the group's April 18 arrest. The decision means these Tent U protesters no longer risk being convicted of charges that would have counted as misdemeanors. The group may yet be subjected to sanctions (ranging from letters of reprimand and suspension through expulsion) from campus administrators, although UCSC Associate Vice Chancellor Liz Irwin insists this information won't appear on the protesters' criminal records. "The student judicial review process is confidential," Irwin claims.

Still, before Tent U protesters break out the "Get out of jail free" bubbly, they might want to race to the UCSC Police Department and request a copy of their rap sheet. Sure, the charges against them have been dropped, but their criminal record lives on--and could come back to haunt them, if they don't take steps to expunge it, steps that are more easily taken while the paper trail is still hot and intact.

Reached by cell phone midweek while she was playing golf, UCSC Police Captain Nancy Carroll said that before the arrests went down, police told protesters that they were unlawfully assembled.

"We warned them two to three times that we had to remove them, that they had the option to leave, at which point some of them did," recalled Carroll. "But most stayed and continued to resist arrest, linking arms and hunkering down, and because those involved had practiced resisting arrest techniques, we had to apply force."

Carroll said the police warned protesters of the consequences of their actions. "We told them, 'Are you aware this will stay on your record and the impact this will have on your record?'"

According to Carroll, anyone who is arrested is fingerprinted, thus creating a criminal record. In the case of the Tent U protesters, their record will state that they were charged with resisting arrest and trespassing, although ultimately the charges were dropped.

Past Present

Tent U protesters might also do well to study the case of Art Main, 32, a Cabrillo College student, who recently found out the hard way just how much a past record can get in the way of present job prospects.

Main's criminal record consists of serving 4 1/2 months for graffiti vandalism 10 years ago when he was 22, and of being picked up on an outstanding warrant two years later, thanks to four unpaid skateboarding tickets he'd incurred while tooling around on the sidewalks of downtown Santa Cruz.

"That's my entire criminal history," says Main, who has since paid off his tickets and forsworn graffiti and who claims he's too old for skateboarding anymore.

"I only use it to go get a slice of pizza," says Main, adding that he used to do lots of drugs and partying, but that he's been clean since 2002. That was also the year he enrolled at Cabrillo College, where he's a straight A student who makes the dean's list each year. None of which saved him from losing the part-time job he'd been offered in Cabrillo's financial aid department, or the old one he'd held in the same department for the previous 2 1/2 years--all because of a criminal record that brought his otherwise smooth employment application process to a painfully screeching halt.

"I don't blame Cabrillo; I love that college," says Main, who never foresaw that the fingerprinting, which was required for the new job, would delay things by two months--a delay that would eventually cost him both jobs.

Initially, Main held the California Department of Justice responsible for the delay, since the DOJ is the agency mandated by state law to check out job applicants in a timely fashion; for instance, it was the DOJ that first faxed a "delay" notice to Cabrillo, indicating that there was something about his application that warranted further investigation.

"At that point, Cabrillo's human resources personnel told me that if I had my court records I could submit them, but I hadn't kept any," said Main, who soon heard through the grapevine that the college was seeking someone else to fill the job he thought he'd been promoted to.

"My work record has been absolutely impeccable; Cabrillo never indicated that this delay would cause a problem or that I might risk losing my position," says Main, who maintains he never kept his criminal history a secret from the college.

"They told me they didn't have to warn me, but I thought, I'm not just some kid off the street. I've worked there for 2.5 years!" said Main. Determined to cut through the red tape, Main ended up contacting the DOJ himself. He was told that the probable reason for the delay in his case was compliance with state law, which says the DOJ is required to receive completion papers on any arrest or diversion before they can release anything to a prospective employer.

"I was told the whole process could take six months to a year," said Main, who now concludes that the weak link in the background-check process is the arresting agencies.

"Are they doing their job as far as filing and updating people's criminal records?" he asks, admitting that these agencies probably lack the staff and funds required to keep people's criminal records up to date.

About to transfer to UCSC to pursue a master's degree in computer science, Main, who has since gotten clearance to work at Cabrillo but has taken a job with a private website agency, says he would someday like to teach.

It's a career goal that has him worried that the same red tape that recently entangled him could have lost him a teaching position in the future.

"If this hadn't happened now, and I had a master's degree and wanted to teach, would I have lost a position because of skateboarding tickets that are old and paid for? I don't mind a background check and in certain situations there should be one, but if an entity is required to do a check there should be some safeguards to protect the applicant, shouldn't there?" says Main, who has yet to take the steps required to formally expunge his record.

Cabrillo College human resources director Loree McCawley commends Main for his perseverance in trying to find out why his application was delayed. "If people find themselves in a similar situation to Art's, I recommend that they educate themselves about the expungement process and how it works," McCawley says. "A potential employee needs to interface with the employer if he or she has a potential criminal history record, work the Department of Justice end and contact the arresting law enforcement agencies involved. Sometimes people think that things have already been expunged, just because of their shelf life."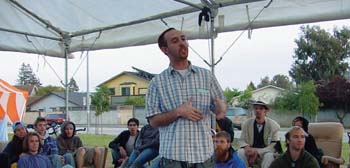 Please Don't Purge Me: Not all Tent U protesters were arrested, but the 19 who were might want to track down their police arrest records, while they still can.
DOJ Download
Nathan Barankin is the DOJ's communications director in Sacramento. He says the state's fingerprinting requirements are based on state requirements related to the personal safety of children, money or firearms, and not heightened post-9/11 security concerns.
"A mandated background check, including fingerprinting, is required for people in positions of trust and responsibility," says Barankin.
So how can people who have a criminal record make sure their record is up-to-date and accurate?
"Individuals who have a criminal history can request and receive a copy of their record. If there are problems with their record, legal options are available to restore any perceived inaccuracies," says Barankin, stressing that the DOJ's role is to serve as the repository, not the creator, of criminal history records.
"We don't create those records. That's done by the law enforcement officials who make arrests, the DAs who prosecute and the courts that adjudicate the cases," says Barankin. "When someone submits a fingerprint for a background check, whatever it reveals is what the facts are. We don't make decisions about what's accurate."
All of which means that when people express concern about their record--or experience delays in getting their fingerprints cleared--the DOJ is not empowered to amend these records. Instead, making changes usually involves going to court.
Barankin claims that the depth of record revealed to a prospective employer depends on the job itself.
"If you're applying for work within a law enforcement agency, they're entitled to everything, including convictions and arrests. For other types of jobs, employers mostly only get records of convictions, not arrests, while other positions are entitled to only certain kinds of conviction information, such as whether applicants have committed felonies or sex crimes."
Ready, Steady, Stop
Barankin cites two situations that typically cause delays in processing fingerprint checks: either the fingerprinting wasn't well taken and the resulting quality wasn't sufficiently good--or, and more frequently, the problem is an incomplete criminal record.
"Let's assume an employer is entitled to your conviction and arrest information. We get a criminal history record from different sources, including the local police department, who may have made an arrest, and the local courts, who may have convicted you. In some cases, they send us a disposition, saying you were acquitted or did probation. Other times, we'll pull up a criminal history record and see an arrest was notated, but have no idea what happened thereafter."
The only place for the DOJ to get dispositions, if they don't already have them, is from the courts.
"We have to pick up the phone and call the courts, a lot of which are only open a couple of times a week, between restricted hours," says Barankin. Another problem is that arrest record or deposition information may come in without any fingerprints.
"While we try to get law enforcement agencies to fingerprint everyone they arrest, it didn't always happen in the past," says Barankin, who recommends hiring an attorney to help find your way through expungement process.
Attorney Journey
While fingerprints seem to lie at the root of many background check problems, Santa Cruz County DA Bob Lee says that today there's a greater demand for DNA records.
"I'm not saying that fingerprints are old school, but they're not Generation X," he says. That noted, Lee confirms that when you get booked, the arresting agency usually takes a photo and fingerprints you.
"If you have a record and you get convicted, your fingerprints will get sent to the DOJ. They'll find out what's on your record, be it drunk driving, petty theft or murder. And even if you were cited and released for something, your citation stays on your record. That can become like a credit check in which you find that someone else with the same name as you didn't pay their bill at Macy's and now that's threatening your credit history."
Lee points out that people with a criminal record, be it from activism in the '60s, graffiti vandalism in the '90s or more recent charges such as those incurred by the Tent U 19, can apply to court, whether or not their crime is a felony or a misdemeanor, to get it expunged.
"Technically, you don't need money to expunge your record, but hiring an attorney is recommended, because they are familiar with the process. If you want to straighten your life around, and if you're patient and persistent, it is possible to do that, although you may have to go through a lot of hoops and it may take some time."
Lee points to the efforts of East Bay Congressmember Barbara Lee (D-Oakland), who recently held a daylong workshop to lead people with records through the nuts and bolts of expungement, an event which culminated in a mass expungement of nearly 100 ex-offenders.

White Women Can't Rap: What?! Of course white women can rap--and they can also land themselves permanent rap sheets, as Stacey Bixby learned to her ongoing cost.
All of Us or None
One of the participating groups in this expungement clinic was All of Us or None, an Oakland-based legal services group for prisoners with children.
"People realized there's a need to ban the box on employment applications about 'previous convictions,'" says All of Us or None organizer Linda Evans. "That way, you wouldn't have to disclose your past, until you made it to the interview stage. People realized there needs to be a mechanism for expungement for state prison convictions. And from the 750 people who showed up that day, people realized this was a job line. There's a high rate of unemployment among people with criminal records."
Here in Santa Cruz, UCSC senior Stacey Bixby has organized a local All of Us or None chapter. While she'd like to see a local mass expungement occur, Bixby is currently focusing on keeping people inside connected to the outside (through a pen pal system), helping prisoners plan for their release, and determining whether people in county jails can vote, even those convicted of a felony.
"When you get arrested, the police charge you with everything they can," says Bixby. "That way they have bargaining power--'We'll drop these charges, if you do this.' But all that shows up on your criminal record--including the stuff that you were not subsequently convicted of."
Noting that it costs $50 to get a copy of your record, $15-$20 for county records and $1 a page for police reports, not to mention the cost of filing all the necessary paperwork and of hiring an attorney to help navigate the system, Bixby says money isn't the only obstacle on the road to expungement.
"Each county has its own set of rules about what can get expunged, so if you have convictions in separate counties you have to expunge them, county by county."
As for the Tent U protesters, Bixby agrees with UCSC Police Chief Nancy Carroll that it's worth getting their rap sheets now, "just in case the arrest shows up on background checks needed to get teaching credentials, or jobs with cities and counties, the state and the feds, security jobs or adoption applications. Also, if you forget--and it's easy to--and don't list the time, place and date of any arrests, you can be accused of being untruthful, so rap sheets are helpful."
For those like Main who have actual convictions, Bixby recommends going to the courthouse where the conviction occurred and getting the paperwork to show that sentences, diversion programs and probation were completed.
She notes that the Oakland Chapter of All of Us or None is working with the San Francisco Human Rights Commission to get the "Have you ever been convicted?" question off job applications, a cause she totally supports.
"Everyone should have the right to apply for a job and get a tentative offer, before being asked if they've been convicted. People change. I have the right to support my family. No one asks for my GPAs. They just ask, 'What mistakes did you make?'"
Last but not least, Bixby, who did not participate in the Tent U demonstration for fear she'd be the first to be charged if arrests were made, thanks to her pre-existing record, explains the chilling effect of having a criminal history.
"The police aren't supposed to take prior arrests and convictions into consideration, but they often do, either by saying, 'You're already in a lot of trouble, so we'll give you a break,' or, more often, 'What difference is one more charge going to make to your record?" A lot of people don't realize a record will get in their way, until it does."
---
The Santa Cruz Chapter of All of Us or None meets the first Sunday of each month, 4-6pm, at the Resource Center for Nonviolence, 515 Broadway, Santa Cruz. Contact them at P.O. Box 1734, Santa Cruz, or at www.Allofusornone.org; 831.418.0018.
---
[ Santa Cruz | Metroactive Central | Archives ]