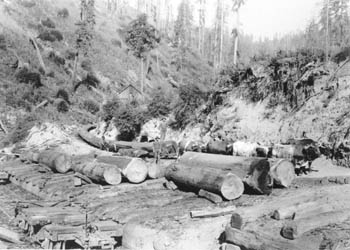 Covello & Covello Historical Photo Collection

Loma Prieta Lumber Company, Aptos: This was probably around 1883, and maybe near the epicenter of our 1989 earthquake. Loma Prieta means 'small dark hill,' in case you wondered. You can see the team of oxen that was used to haul the logs down to the railroad tracks shown in lower left.

Bruce Bratton

PARKING TICKETS INCREASE. I think it's great that the parking tickets went up to $18. It's really just a sample of what we'll get if that Utility Tax Repeal passes in November. Our city has very little money and parking tickets are just one way to pay for the costs of running a city. If we vote to repeal the Utility Tax, there'll be so many cutbacks we won't know what hit us. Check your local political candidates and their supporters to see where they stand on the Utility Tax thing.

SIX FINE FILMS. Don't read anything about the plot of Richard Gere's new film Unfaithful if you can help it. He and Diane Lane are great, the plot is intelligent; it's one of the finest films from Hollywood I've seen in years. Just go quickly before your friends or reviewers tell you all about it. Spider-Man is also a well-made film. It's fun, believable and the exact film for folks who "just want to be entertained." Tobey Maguire was the perfect choice for the lead. Woody Allen's latest chapter in his film biography, Hollywood Ending, isn't either his best or his worst, but it is certainly worth seeing. Have any two Allen fans ever agreed on which of his films are good or bad? My Big Fat Greek Wedding is a nicely told predictable family film that teaches us that ethnic groups are quaint, cute and cuddly. But go anyway. Italian For Beginners is a Danish comedy. Comedies from other countries show us new ways of looking at humor and our lives--go see this one. Triumph of Love was made from a 1752 play and stars Mira Sorvino. The film has a style and attitude, and remember it is a play, so go expecting exactly that plus some commedia dell' arte and you'll love it.

MOTORCYCLE MADNESS. The number of--and the noise from--roaring motorcycles on Pacific Avenue is much worse now than it was a month ago. Word must be out amongst these funny-looking people that Santa Cruz is the place to hassle and not be hassled. It seems odd that no one has taken the responsibility of putting a stop to this age-old problem, and it just keeps getting worse. Nuisance tickets, repair notices--somebody did something in Los Gatos to stop loud motorcycles, why aren't we? Our City Council and the police working together could stop this noise pollution in a week--why haven't they?

THREE MORE FINE FILMS. Until you see Dogtown and Z-Boys you can't appreciate what skateboarding is all about. This is a wonderful award-winning documentary that will interest everybody. It also makes you realize skateboarding is serious and that Santa Cruz needs a skateboard park and ASAP. See this film. The Cat's Meow could be called Citizen Cursed. It's from a play that says William Randolph Hearst murdered a filmmaker he mistook for Charlie Chaplin. Film enthusiast Richard Bender is right in noting that The Cat's Meow is a 1930s Hollywood version of England's upper-class pranks in Gosford Park. The documentary of San Francisco's Cockettes may be a bit too long, but it does capture a lot of the late '60s energy in San Francisco. Those people and those times were crazy and impossible to comprehend unless you were there, but this film gets it right.

HAMLET IN YOUR HOUSE. Shakespeare Santa Cruz has created a very comfortable community tradition by housing its actors in homes around the neighborhood for many years. Imagine the fun of having a Lady Macbeth, an Iago or a Rosenkrantz right in your own home for the Shakespeare season. They need lots of rooms, apartments, house-sitting gigs or whatever you can think of from June 9 to Sept. 1. Actors and interns in the program are all responsible people, and besides, you can get a lot of perks from helping out these thespians. Contact Sara Wilbourne at 459.5810 or [email protected] for more details. Shakespeare Santa Cruz also is looking for automobile donations as tax write-offs, so think about that, too.

THREE AWFUL MOVIES. I thought The Scorpion King would at least be fun in a silly way to watch--I was wrong. The Rock isn't even as good as Arnold Schwartzenegger in Conan, which the film resembles, without the enthusiasm. Avoid it. I walked out on Changing Lanes after about 25 minutes of bad writing, blah photography, unbelievable plot and a waste of Samuel Jackson's and Ben Affleck's talents. Angelina Jolie did what she could in Life or Something Like It but the film is just another corporate product from Hollywood. Go see Unfaithful instead.

FILM FESTIVALS. Congratulations to the Santa Cruz Film Festival. Packed theaters, films we'd never see anyplace else, what more can we ask? Let's hope next year is even bigger. Other good news is that the Pacific Rim Film Festival will be back the first weekend in November. Feature-length films from around the Pacific and free admission, details soon. It just proves that, like books in a library or channels on your TV, you can't have too many film festivals.
---
Bruce critiques films every other Thursday at 12:50pm on KUSP-FM (88.9). Reach Bruce at [email protected].
---
[ Santa Cruz | Metroactive Central | Archives ]