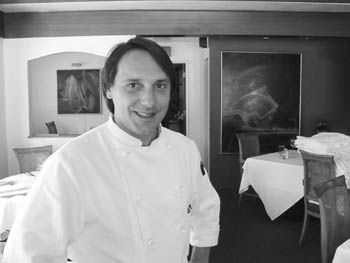 Never a Dull Moment: Chef Nicci Tripp keeps things creative at Theo's.

Going for Baroque

Under new ownership, the kitchen of Theo's has renewed its commitment to seasonal ingredients and high concept

By Christina Waters

AFTER 30 YEARS of serene sailing under its founding proprietors, Theo's recently set a new course for its cozily elegant interior, its gardens and most of all its inventive kitchen. Chef Nicci Tripp has chosen to work the creative edges of culinary Mannerism, and his enormous palette of flavors, colors and textures can have widely varying results--from the sublime to the, well, let's just say the over-the-top.

Last week, we took our favorite corner table next to the stone fireplace and saw that the proud new owners had retained the soft charm, fresh flowers, white linens and unrushed ambience. The small menu at first glance offered conceptual thrills--Versailles goes to Big Sur--including soft-shell blue crabs, roasted wild boar, truffled asparagus and English pea ravioli. Tasty sounding indeed. Upon closer inspection, we noticed frogs legs but no chicken. Oodles of truffles but no beef. This was going to be interesting.

From Theo's cabernet-intensive wine listing we found a half-bottle of Ridge Lytton Springs Zinfandel 2000 ($25) that was so fully grown for its age it could already read and write. Abundantly spiced, it opened nicely along with a basket of too-salty but gorgeously textured home-baked sourdough. Our mouths liked an amuse of lightly smoked salmon with lemon and shallot zest on crostini. Too bad our capable waiter felt the need to flatter and approve of our every choice.

Both appetizers were excellent, though my napoleon of sweet Maine lobster pushed every possible envelope. Successfully. The appetizer consisted of alternating layers of opulent lobster meat, a crisp frite of grated Parmesan, then a band of diced mango and microdiced red bell pepper, another salty cheese crisp and a fluff of infant greens ($11). A provocative union of lemon grass and vanilla bean in an unforgettable vinaigrette managed to ignite this heroic display of world fusion cooking.

Jack's starter of truffled green and white asparagus was a simpler creation, topped with a white mass of whipped Brie, a crimson dice of tomatoes and a frothy onslaught of shaved shallots ($10). The Brie--mimicking mayonnaise--dulled the taste buds, though the concept was duly ironic. Irony might have worked in postmodern art. In cookery, it can tend toward edible insult. Surrounding the spears of lovely asparagus were earthy pools of black truffle emulsion. Truffles and salt were becoming a theme of the evening.

After a long wait, our main dishes arrived--one a solid hit, the other an oral riot. A generous portion of rare wild boar tenderloin slices fanned out over a bed of sensational Yukon gold gnocchi ($27). Tender baby spinach wilted deliciously over the wild boar, while a spectacular sauce framed the whole. As daring as it was on-target, roasted figs had been infused with pan juices and vanilla to create a gastronomic hue we'd never experienced. Such willingness to work with flavors outside their usual context is worth the price of admission.

But what he gave with one hand, the chef took away in the form of my busy, brown entree. Beware any listing containing more than six ingredients! Half a truffle-stuffed squab sat atop a bed of spiced lentils, atop a strawberry-infused papaya. That might have worked. But the squab itself groaned under the weight of a larger slab of richer-than-Louis XIV foie gras. I might have swallowed such excess if not for the eerie parade of infant chiogga beets circling the plate, each one with a slice of black truffle perched on its back. For dessert we split a bracing Meyer lemon tartlet, topped with warm toasted meringue in a pool of sticky lemon caramel ($8). Jack loved its lemon intensity. I thought it lacked finesse. Our meal at the new Theo's was anything but dull.
---
Theo's
Address: 3101 N. Main St., Soquel
Phone: 831.462.3657
Hours: Dinner Tue-Sat from 5:30pm
Ambience: ***1/2 Unpretentious, perfectly welcoming
Service: *** Expert and attentive, if solicitous
Cuisine: *** Impeccable ingredients, inventive to a fault; willing to go out on a limb even if it means taking risks
Overall: With increased conceptual consistency and menu-fine-tuning, Theo's promises to reward its loyal following.
Price: Appetizers $8-$11; entrees $23-$27
---
[ Santa Cruz | Metroactive Central | Archives ]