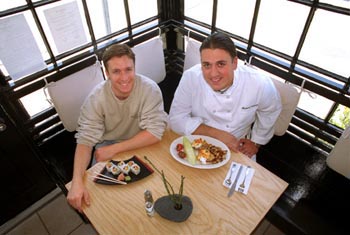 Photograph by George Sakkestad

Designers' Statement: Owner James Kirkpatrick and co-owner and chef Matisse Selman show off the two sides of their restaurant.

Culinary Duo

The gastronomic split personality of Sushi Now! gives Capitola residents their choice of dining experiences

By Christina Waters

A SUSHI PLACE that serves American breakfasts. What a concept. We'd heard that the entrepreneurs of Santa Cruz's street sushi kiosk were opening a Capitola restaurant branch and we were anxious to see what Sushi Now! was up to. It seems, however, that chefs Matisse Selman and Jeff Knab--both Culinary Institute of America graduates--wanted to stretch the drawing power of their new place and decided to offer American-style breakfasts in the morning. The intriguing concept offers more than a few challenges, we noticed at dinner last week.

Attractively decorated with blond-wood walls, tables and chairs, Sushi Now! makes a definite designer statement. The soft, soothing splash of various fountains--sensuous objects of black slate from which sprout horsetail rushes--adds to the effect. A huge orchid plant sits on the stone fireplace hearth, and rice-paper blinds lend sophisticated polish.

Why, then, mar this pretty effect with a huge sign blaring "Order Here" at a prominently placed cash register? Not only do you place your order and pay up front, but later you go up to the counter and pick up your own enamel tray of sushi when your name is called. Chopsticks? Plates? Napkins? They're all self-serve at various stations placed next to a recycling area. The ambiance was pretty much shot by this deli-style approach to customer service. The two staffers who did nothing more than answer our questions could just as easily have walked 10 feet to our table and delivered our order.

The cavernous silence made the restaurant seem even emptier. A little music might have gone a long way to keep the visual attractiveness intact.

Sushi Now! has a winner in its Ocean Roll (all rolls $4.50). A wonderful filling of seaweed salad, avocado and macadamia nuts gives this concept some textural sex appeal. However, like the Insanity Roll (billed as spicy, but bland as Duluth) and the Garden Roll (an interesting filling of pickled garlic, avocado, carrots and bell pepper), the Ocean Roll was practically obliterated by a surrounding snowball of rice. I ended up tearing off huge hunks of sticky rice in an effort to get to the inner flavor core. An order of gyoza ($5) proved limp and curiously semi-cooked. After several bites during which I struggled to detect heat and flavor, I gave up.

Breakfast at Sushi Now! a few days later with my girlfriend Kelly proved a happier experience (though there's something counter-intuitive about going out for eggs Benedict at a sushi place ...). A real human greeted us and invited us to take a table as he brought out menus. Light jazz was playing in the background, and other diners were obviously having a nice time sampling the generous breakfast specialties of the house. Tables were set attractively and breakfast came to us, rather than the other way around. While the coffee lacked any detectable flavor, the French toast ($5.95) was tasty. A beautifully scored, ripe mango, plus melon and strawberries, adorned the dishes, and three soft/crisp French toast slices had been dusted with powdered sugar. Kelly's order of fried eggs ($5.95) arrived with delicious potatoes and a side order of Canadian bacon (a deal for $1.50).

Kelly loved her eggs and their dusting of garlic chives and paprika. We enjoyed a long, leisurely breakfast, soaking up all the coziness of the corner window seat and recalling the days when this place was Suzanne's by the Sea--one of the earliest homes of natural foods cookery.

Sushi Now! has youthful exuberance and presents honest breakfasts in one of the best locations in Capitola Village. But the dining room has a long way to go in terms of staff training and sushi expertise. If this were my culinary experiment, I'd drop the sushi altogether and really focus on making the best breakfasts in town.

Breakfast Now! might be the rewarding result.
---
Sushi Now!
Address: 427 Capitola Ave., Capitola
Phone: 831.477.ROLL
Hours: Breakfast 7am­noon; sushi noon­10pm. Closed Tuesdays.
Ambiance: **1/2 Sleek, soothing decor somewhat mitigated by "Order Here" sign and plastic utensils.
Service: * 1/2 No service during the sushi hour makes patrons do the work--though breakfast staffing is friendly.
Cuisine: ** Breakfast is nicely presented, but the evening sushi menu drops the ball.
Overall: Well-meaning and attractively decorated, this new eatery suffers from conceptual schizophrenia.
---
[ Santa Cruz | MetroActive Central | Archives ]