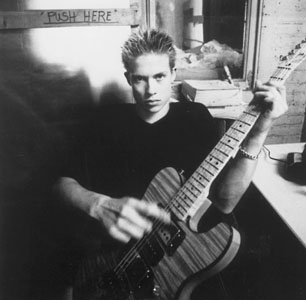 Blonde and Blue: At the tender age of 20, phenomenal guitarist Jonny Lang has already gone platinum.

The Blues Barrier

Talent helps, but in the music industry, good looks sell more records

By Barbara McKenna

BLUES GUITARIST Chris Cain calls it "Career Move Number 79." It happened the night he blew off the guy who was soon to go platinum.

"It was a couple of years ago and I was playing in Memphis at B.B. King's Blues Club," Cain recalls. "We were getting ready to play when this lady comes in with this little guy and says, 'This is Jonny Lang, can he play with you?' I told her I wasn't sure, because we had too many guitar guys there already. Well, three weeks later, I'm watching television and here's this cat on MTV. I couldn't believe it. I kicked myself. I said, 'Man, I should at least have given him some candy.'"

Cain will get a chance to make amends this weekend when he and Lang are among the dozens of artists taking the stage in Aptos during the ninth annual Santa Cruz Blues Festival. But it may take more than a Snickers bar for the two to find common ground. While they share a love of blues and outstanding talent, their experiences in the music industry are worlds apart. At 20, the fair-haired Lang has already gone platinum, while Cain, 45 years old and of mixed race, has been, as he puts it, "falling through the cracks for 20 years now."

It's impossible to begrudge Lang his success. He's a true talent and genuinely modest. When people compare him to B.B. King (who has gone on record numerous times in praise of Lang), Lang says humbly, "It's not fair to equate me with B.B. King. He's B.B., and that's against the rules."

Lang has been working hard since he began playing at 13. And while he now tours in his air-conditioned bus (something he says he will never take for granted), he's logged many miles in a beat-up old Dodge van, traveling from one beer-soaked juke joint to the next.

Still, one can't help noticing that Lang, with a major label deal, is young, white and very good-looking. Like Elvis Presley and Pat Boone before him, Lang has hit it big at a young age in an industry where many equally talented but less marketable musicians have struggled for years.

"[Sun Records producer] Sam Phillips signed Elvis because he was a white man who could sing like a black man," says Randy Jacobs, lead guitarist, singer and songwriter for the Boneshakers, who played the previous two years at the Santa Cruz Blues Festival. "A lot of white guys like Elvis and Jerry Lee Lewis were making hits with race music, music based in blues and gospel, that they heard from people like Big Mama Thornton."

These musicians were more palatable to target audiences not only because they were white, but because their renditions toned down the rich sexual innuendoes in the originals. The most famous example of this is "Hound Dog." Elvis's mutt never caught a rabbit, but Big Mama Thornton's pooch was after other game. As she put it: "You ain't nothing but a hound dog, just snooping round my door. You can wag your tail, but I ain't feeding you no more."

Although race was a major factor in the 1950s and '60s, the major barricade for blues musicians in the following decades was lack of interest. "In the '70s, there were no blues clubs," Cain says. "Instead you played at the Wagon Wheel and competed with the buffet."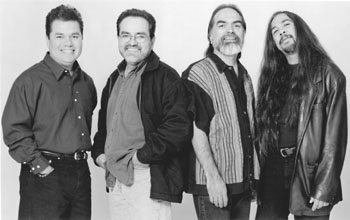 O Brothers: The L.A.-based Delgado Brothers have been playing the blues for decades, but only now that it's 'cool to be Latino' are they starting to enjoy moderate success.
Suits to Success
WITH THE expansion in recent years of MTV and the predominance of what Cain calls "the suits" (record execs with their sights set on large profit margins), image has become more important than race.
"If you look at who's a big star now, it isn't about being white as much as it is about being aesthetically pleasing," Randy Jacobs says. "It's true in every genre. Think about Roy Orbison. When you hear that five-octave voice there's a power there you can't deny, but with his pale skin, squinty eyes and double chin there's no way he could sell himself today. People don't want crusty and ugly, they want the Dixie Chicks."
Cain agrees. "If John Coltrane was trying to sell records today, he'd have a heck of a time. And George Jones can't get played on country radio because he's not some handsome guy with a big hat. And here you have Britney Spears making millions. All I can say about that is, would somebody please get off her trachea so she can produce a whole sound? I never heard things like that come out of anyone before."
Joe Delgado, lead guitarist for the L.A.-based Delgado Brothers (who also play this weekend) has been working for decades in the business, but only recently has his band begun to experience real success. "We used to laugh about it and say, Well, we'll never make it because we look like the night managers at El Pollo Loco. I remember some years ago when [harmonica player] James Harmon told me that unless I was a black man from Chicago or a white boy from Alabama I had no chance in the blues. I was really mad, but at the same time I knew he was probably right. It's funny though, because now it's becoming cool to be Latino. People are describing us as a hot Latin blues band. That's fine with me. Whatever works, I'll take it."
Even Lang has experienced image problems. "There are people who tell me I don't have any right to play blues music," he says. "They say this first of all because I'm white and second of all because I'm young and haven't been stepped all over and don't know what it's like to be oppressed. I can't argue about that. I am very happy when I play music. So, I'm not playing the blues, I guess. But what I hope, and what I see sometimes, is that when people get lost in the music, they forget all the 'isms' and the rules. If it's good music, it's good music."
And that is where Lang and Cain, and practically every musician on the scene, find common ground--if the music moves people, then it's good.
"Sometimes people think too much," Cain says. "That's the thing with blues, it's a feeling. It's as deep as it can get. There's pain in it--a pang in your chest. I don't know, it might be angina, it might be too many eggs for breakfast, but I think it is probably the blues."
---
The Santa Cruz Blues Festival is Saturday and Sunday, May 26-27, at Aptos Village Park. Jonny Lang headlines Saturday's show, which includes Roy Rogers & the Delta Rhythm Kings, Tinsley Ellis, Lloyd Jones Struggle and Hamilton Loomis. The Sunday lineup features headliner Keb' Mo'; Sista Monica; Jimmy Thackery with Tab Benoit; the Delgado Brothers with Chris Cain; Melvin Taylor; Studebaker John & the Hawks. General admission on Saturday is $33; on Sunday $28; both days $55. For tickets and information, call 831.479.9814 or visit www.santacruzbluesfestival.com.
---
[ Santa Cruz | MetroActive Central | Archives ]