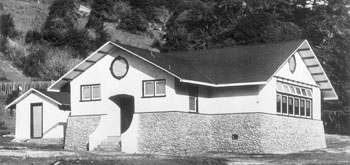 Mountain School in 1912: This building has changed very little over the years. It's in Soquel on Old San Jose Road about a mile north of Casalegno's store. The Mountain School District was a one-school district and was established in 1867. Why it's named Mountain School isn't known. The once-upon-a-time school building has been recently refurbished by the SUBUD association and is rentable for special occasions.

Bruce Bratton

FRIENDLY TO BUSINESS, WHO? HA! I mentioned last week that the Santa Cruz City Council's blissfully ignorant and rushed 7-0 vote to approve Louis Rittenhouse's proposed building was, at least, friendly to business. By the responses I received, even that isn't true. Locally owned small businesses downtown responded by saying there is a very real shortage of reasonably sized retail spaces downtown. By not restricting Rittenhouse's retail spaces as to size, the council is inviting only large chains and franchises to move in. This, of course, is what happened at the Cooperhouse and the Redtree Borders building and will happen at the Rittenhouse Remnant. Locally owned small businesses are severely handicapped by the huge sizes (minimum 3000 square feet), staffing and rent required. The competition for local specialty businesses by the big out-of-town businesses that can handle the size will close down even more of our friends' and neighbors' means of making a living and send more profits out of town. Now's the time for the council to avoid the future reaction to Louis' probable announcement of Old Navy and Burlington Mills moving in. As long as they've ignored open space they can do something meaningful for our locally owned small businesses.

DARK PLEASURES. Just go see Shrek. It's witty, intelligent, irreverent and, as you must know by now, has animation that defies description. Cameron Diaz' voice should have been replaced by a voice with more character, but see it on the big screen anyway. Jennifer Lopez does a fine acting job in Angel Eyes. The film isn't exactly what you think--it's more of a relationship thing. You could wait and rent this one. John Turturro and Emily Watson work beautifully together in The Luzhin Defence, which is a fine film and is nicely constructed, too. Seeing and assimilating three Satyajit Ray films--The Golden Fortress, The Company Ltd. and The Chess Players--in one weekend and then trying to comprehend fully their simplicity is nearly impossible. Hearing experts discuss Ray at the UCSC presentation last weekend was an experience. Now, if we can somehow have screenings of all the Ray masterpieces in the Ray Film and Study Collection at UCSC--even if only on video--we'll be grateful.

SANTA CRUZ EARTH FIRST! The local chapter of Earth First! is having a fund drive to help defray its costs in establishing tree-sits in more than 30 trees in Ramsey Gulch, just east of Corralitos. The group is working to protect the watershed for the Pajaro Valley and to protect significant ancient trees. They need money, food and donations of equipment. Contributions can be deductible, if you wish. This would be an excellent time to help out these courageous volunteers; just $25 will keep the tree-sit going for a week. Call 425.3205 or contact [email protected] or go to www.earthfirst.org to get involved.

THE RITTENHOUSE RUSH? Many folks have asked why the Santa Cruz City Council raced to approve the Rittenhouse Building at Pacific and Church streets in spite of the opposition. One councilmember who we thought cared more about the environment and the community, instead of a four-story building, said it was rushed through "because Louis wanted to start pouring cement this summer." Former councilmember Katherine Beiers says, "The council gave away the store on this one" and reminds us that the last city council sent Louis back three times before his white flatiron building was approved. On another point, many people involved in the Plaza Committee remember Emily Reilly calling herself "the plaza girl" during her campaign for city council, but no one can remember why, especially now.

OPERA TIME. Now's the time to plan ahead if you've got visitors coming. Take them to see some of San Francisco Opera's finest productions. Especially if you're new to opera. They'll be presenting three Verdi masterpieces: La Traviata, Aida and Simon Boccanegra. There are also many free Verdi opera lectures and events. The operas run June 1-July 1 at the magnificent San Francisco Opera House on Van Ness. Ticket prices are reasonable, and it'll be an event you'll never forget. Go to their award-winning website at www.sfopera.com.

TRANSPORTATION SOLUTIONS? Someone at the Master Transportation Study released a resident flier last week that has caused way more problems than any solutions. Their first transportation project suggested is a "multi-use path through Arana Gulch"--that proposed path will be bumpy when you consider all the "over my dead body" oaths taken by opponents to that flaky idea. That project is followed on the flier by "car-free Pacific Avenue Mall!!" They'll be forced to include merchant-free Mall, too, if past car-free attempts are any lesson. Nothing wrong with getting folks to react, but when it's on official time, it becomes very political. Call the MTS people at 420.6683 and find out what they mean by printing those ideas that have had such negative reactions in the past.

LEE Q'S PARTY. More than 150 media types, politicians and otherwise normal people gathered to bid Lee Quarnstrom a roasting farewell last Friday night. State Senator John Vasconcellos gave Lee genuine praise for his courage to take unpopular stands on popular issues. Former State Senator Henry Mello lambasted Knight Ridder for its cutbacks at the San Jose Mercury and the Monterey Herald and their nonunion attitude in handicapping the media. It was great fun, and I got to meet near surfing legend "Birdlegs," who videotaped the entire affair.

MEA CULPA AGAIN. One item I never addressed before resigning from the Downtown Commission was dealing with Jesse Nickell being a member of the commission--and, more than that, now being chair of the commission. Jesse is Barry Swenson's project manager or point man for most of Swenson's downtown projects. The Downtown Commission makes recommendations to the Santa Cruz City Council on all sorts of economic issues. They range from parking fees, building and maintaining parking garages to traffic patterns, business signage and so on. Since developer Swenson profits from downtown businesses, Nickell has to have the most obvious conflict of interest in the Western Hemisphere in making any recommendations on downtown decisions. I've mentioned this problem to members of the City Council over the last year. Want to guess what's been done about it?

SILENT FILM FESTIVAL. The Flower City Society Orchestra will accompany the 1924 silent classic Peter Pan at 11am at the sixth annual San Francisco Silent Film Festival on Sunday (July 8). Within Our Gates (1919), African American filmmaker Oscar Micheaux's answer to D.W. Griffith's Birth of a Nation, will be shown at 2pm. The Italian fantasy action classic Maciste in Hell (1926) will screen at 4:30pm, and the Clara Bow sex comedy It will be shown at 8:30pm. It's a long day at the Castro Theater--and a great deal of fun. They'll sell out about two weeks before the event, so plan ahead. Stephen Salmons is the brains behind the festival. He's a former UCSC student and a former usher at the Del Mar Theater. I told him about the Del Mar's good news. Check out details on the silent film festival at www.silentfilm.org.

SOME NEW WORDS. We need better words for these changing times. These were sent in by an anonymous tile setter. PEPPIER (pehp ee ay') n. the waiter at a fancy restaurant whose sole purpose seems to be walking around asking diners if they want fresh ground pepper. ELBONICS (el bon iks) n. the actions of two people maneuvering for one armrest in a movie theater. CARPERPETUATION (kar'pur pet u a shun) n. the act, when vacuuming, of running over a string or piece of lint at least a dozen times, reaching over and picking it up examining it, then putting it back down to give the vacuum one more chance.
---
Bruce critiques films every other Thursday on KUSP-FM (88.9) at 12:50pm. Reach Bruce at [email protected] or 457.5814, ext. 400.
---
[ Santa Cruz | MetroActive Central | Archives ]