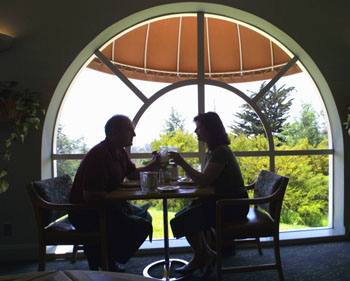 Photograph by George Sakkestad

View Corridor: Eating at Chaminade combines a bountiful buffet with a beautiful vista.

Very Large Array

High on the De Laveaga bluffs, Chaminade specializes in soothing views and some choice buffet possibilities

By Christina Waters

TO SOME, the very word, "buffet," conjures a chaotic jumble of dishes, colors and lukewarm textures. To others, it represents endless potential to forage at will. At Chaminade, the buffet concept is given an honest run for its money. On two visits last week, we grazed on the tasty, the odd, the unexpected and the satisfying.

Along with two Santa Cruz old-timers, Don and Marie, we made the drive through the towering eucalyptus forest to the beautiful hilltop site of a former private Catholic school. Transformed into one of the Bay Area's top corporate retreats, Chaminade invites the public to soak up the serenity of rolling lawns and the view of the bay far below--and to enjoy daily variations on the time-honored buffet.

Friday night's buffet is lavish with seafood; Tuesday's features a flambé dessert bar; and there's a spectacular Sunday champagne brunch--they're each different. On Wednesdays, a noodle station offering custom-prepared udon and soba with myriad toppings leads a glittering array that includes grilled mahi, roast pork, grilled chicken, poached salmon, spring rolls and potstickers, as well as a selection of desserts that might mellow even Dr. Laura.

Marie joined Jack at the soup station, and they both liked a fresh tomato soup with fennel and a Tuscan bean with pancetta creation. But Don and I were busy putting together our own custom salads. I know it's shameless. Your fantasies of mixing and matching foods together regardless of culinary correctitude can be freely indulged at a buffet.

A delicious Thai chicken salad packed with cilantro, peanuts and Napa cabbage went right next to spinach topped with prawns and a tangy lemon dressing. It's my plate, I reminded myself. I can choose whatever I want.

Marie came back to the table with a bowl of soba topped with shiitakes, baby corn, golden zucchini and prawns--I loved it, she thought the broth was a bit wimpy. But we all caved in at the sight of a gorgeous moist poached salmon, as well as grilled mahi steaks slathered with complex chipotle sauce. Where else could I feast on brussel sprouts and mushrooms followed by unlimited chilled prawns and then a slab of cream cheese frosting liberated from a lovely carrot cake?

Don's goblet of chocolate mousse disappeared instantly, while Marie loved her cheesecake and Jack beamed over his bowl of fresh, ripe strawberries topped with whipped cream. Something for everyone, indeed.

Returning a few days later for breakfast (a daily event from 7 to 9:30am) we discovered one of the great bargains of Santa Cruz. In addition to a meditative atmosphere--the fog lifting gently out of the forest--Chaminade's dining room is laid out with a full dance card of morning flavors, from yogurt and cold cereals, to pastries, fresh squeezed juices and the predictable steam table waffles, scrambled eggs and bacon. The bargain here--$9.95 per person--is a custom omelet station. Jack asked the chef to make him a two-egg omelet (he could have had three) and fill it with ham, jalapeños and green peppers. Right before his eyes, the perfect omelet emerged, which he topped with warm salsa and consumed with relish. It was a classic creation (I would have added cheese and olives) and worth the price of the buffet all by itself.

A bowl of hot, cracked wheat cereal with raisins topped with yogurt and brown sugar was delicious and fortifying. The fruit was perfect, and only the pastry selection appeared rather weak on variety and visual appeal. The coffee--generously and frequently poured--was strong. The bacon and scrambled eggs were surprisingly fresh. And the view kept our endorphins in a state of bliss. For $20 we enjoyed a lovely setting, fresh foods and a distinctive way to start the day.
---
Chaminade--Sunset Dining Room
Address: One Chaminade Lane, Santa Cruz
Phone: 831.465.3448
Schedule: Daily breakfast, lunch and dinner buffets. $9.95-$33.95
Ambience: *** Flawless views and surroundings, attractive dining room
Service: *** Professional and helpful
Cuisine: *** A smooth buffet operation, diverse and delicious
Overall: For the view, as well as relaxed buffet dining, Chaminade is a local treasure
---
[ Santa Cruz | MetroActive Central | Archives ]