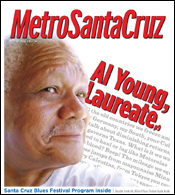 For the Week of
May 25-June 1, 2005
Cover Story: Al Young, Laureate:
An intimate profile of Al Young, California's new poet laureate, from Morton Marcus' literary memoir, 'Striking Through the Masks.'
Just Who Is Al Young?: An interview with the state's new poet laureate.
Nüz: Felton Cliffhanger; The Longest Line; And the Winners Are ...; Palestine Awareness Week; Memorial Day Salutes; Super-Secret Staircase Tour.



Rev: Tools for Women: The owner of the company, Barbara Kavovit, a successful construction contractor, started the series in order to empower women.



The Show Must Go On: Boulder Creek Art, Wine and Music Festival carries on--in face of Caltrans' opposition to the wine part.



A Bluffer's Guide to Ki-duk Kim: '3-Iron': A Housebreaker's Guide to the Galaxy.



The Rock Show: Mayim; SoVoSo; Jason Moran; Marvin Sewell.



Shame vs. Guilt: 'Bangkok Tattoo' explores the culture of shame.



Jump On In: The newly opened Jumping Monkey cafe is a gem.



I Wrote a Letter to My Love: Real-life lovers bring A.R. Gurney's two-person 'Love Letters' alive.
Copyright © Metro Publishing Inc. Maintained by Boulevards New Media.