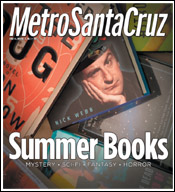 For the Week of
June 1-8, 2005
Cover Story: Summer Books:
Mystery, sci-fi, fantasy and horror.
Nüz: Santa Cruz: The Verb; Funneling the Feedback; Pride Rolls On.



Rev: Bush Deconstructed: Biodiesel's secret is that Republicans love to support it, too



The Big E: Richard von Busack talks to director Alex Gibney about his documentary 'Enron: The Smartest Guys in the Room.'



Plus Change: An acoustic jazz trio turns the jazz world on its ear with some fresh sounds and a love of the grunge.
The Rock Show: Carne Cruda; Run Return.



From Self-Hate to Radical Self-Acceptance: Exploring the process of breaking the cycles of addiction.



Vegging Out: Some people get a head start on vegetarianism, others aren't so lucky.
Copyright © Metro Publishing Inc. Maintained by Boulevards New Media.