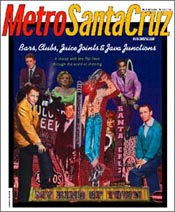 For the Week of
June 11-17, 1998
Cover: Bars, Clubs, Juice Joints & Java Junctions
An A-to-Z guide to the county's bars and clubs, plus coffee houses and juice bars.
Retro-Rat Pack
Celebrating the innocence and hedonism of those irrepressible party animals of the early 1960s.
Portraits of the Pack:
Dean Martin
Sammy Davis Jr.
Joey Bishop
Peter Lawford
JFK
Jackie Kennedy
Angie Dickinson
Marilyn Monroe
Joe DiMaggio
Shirley MacLaine
Kevin Bacon
Frank Sinatra
News: Sea No Evil
Conflicting views on ecology and ocean management tangle approaches to regulating kelp harvesting in the Monterey Bay Sanctuary.
Pols Push Pot Prop: Santa Cruz health professionals and public officials are standing behind the spirit of 215.



Hot-Weather Happenings: A complete guide to this summer's cultural, recreational and phantasmagorical fun.