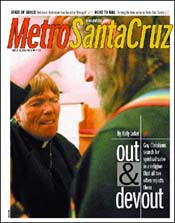 For the Week of
June 23-30, 1999
Cover: Out & Devout
Gay Christians search for spiritual salve in a religion that all too often rejects them.



Future Folk: Futuristic folkie karry walker uses electronica to push the boundaries of her genre.
Crackerjack Classical: Claire Schneeberger leads the Bay Shore Chamber Orchestra.
Notes From The Underground: Two local zines are more ghoulish than a shift at the graveyard.



Gala Gabriella: Smiles of a summer night fill our celebration dinner at Cafe Gabriella.



State of Grace: Bertolucci steals more than beauty in 'Besieged.'
Bloody but Bowed: 'The Red Violin' follows a devilish instrument across four centuries.