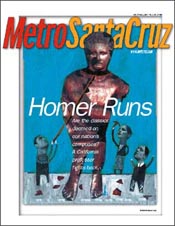 For the Week of
June 25-July 1, 1998
Cover: Homer Runs
Are the classics doomed on our nation's campuses? A California professor fights back.
News: Labor Pains
Liberal nonprofit organizations love the idea of 'pro choice'--until it comes to union activity in their own back yards.
Cultivating Solidarity: Grad students, farm workers and maids find common cause.



Hot-Weather Happenings: A complete guide to this summer's cultural, recreational and phantasmagorical fun.



Notes From the Underground: Woodpecker's new album shows there's more to local music than poppy punk.



Cold Dish of Careerism: Lisa Cholodenko's icy High Art turns from chic comedy to humiliation.



Sailing Down to Rio: A seaside fixture facing Rio del Mar's palm-tree esplanade, Cafe Rio offers a lively port in any storm, plus some fine food to match.



Please don't forget to write! Metro Santa Cruz welcomes letters. Like any great work of art, they should be originals -- not copies of letters sent elsewhere. Include address and daytime phone (for verification purposes only). Letters may be edited for length and clarity or to correct factual inaccuracies known to us. Postal: Metro Santa Cruz Letters, 111 Union St., Santa Cruz, CA 95060. Fax: 831/457-5828. Email: . Emailers, please include name, city of residence and phone number. Letters printed will list email address unless otherwise specified. Letters to the editor are not currently published in the online version of this paper.