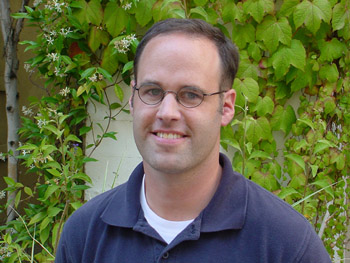 Photograph by Sarah Phelan

Life of Ryan: Neal Coonerty's son may soon be running for City Council.

Nüz

When Lemons Fly

It's not every day you share strawberry shortcake with Hamlet (Ryan Artzberger)and Ophelia's brother, Laertes (Carl Cofield), while learning how East Coast actors acquire the ultimate Cruzer accent (hang out with mountain bike mechanics who say, "Hey dude, pass us the doobie and the Allen wrench," apparently,) but that's what happened to Nüz at Shakespeare Santa Cruz's media lunch.

SSC artistic director Risa Brainin, who's directing Hamlet this year, argued that post-9/11 is the most opportune moment to stage Willy's greatest tragedy.

"Hamlet engenders us to question our motives for and obsession with revenge," she said as we chowed our salad, and by the time we were imbibing the whipped cream on the berries, Comedy of Errors director William Partlan, who grew up on the East Coast, was venturing that it seemed only fitting to set Shakespeare's finest farce in Santa Cruz and explore it "as a true outsider."

All of which seemed sugarily pleasant, but a mere four hours later, when Bubble Man Tom Noddy was cited and arrested for juggling three lemons outside Borders, Nüz bitterly concluded that if Partlan is serious about exploring the Cruz, he may want to invest in lemons for all and any of the Errors' inevitable juggling scenes.

Reached after he was released from jail 13 hours later, where he, er, not exactly partied until 6 in the morning with a cell full of drunks and piss artists, Noddy said he provoked the citation by juggling under the nose of a police officer "not because I want to be cited, but because I want to be able to juggle without being cited."

And though he had not slept all night, the newly released Noddy was already distributing fliers advising people that juggling is now officially outlawed downtown, even as he played a tape of City Attorney John Barisone advising then-Mayor Chris Krohn last summer that the new ordinances would not outlaw juggling.

Reached shortly after Noddy's muck-stirring release, Barisone told Nüz that he did not recall saying that juggling would not be outlawed, "but if Tom has a tape, I must have, though I'm not sure which version of the ordinances I was referring to at the time."

Noting that he will therefore dismiss Noddy's current citation, Barisone added that he is however putting the Bubble Man on notice that juggling is within the range of conduct prohibited by the hackeysack ordinance--meaning, Nüz supposes, that further efforts to make lemons fly will be prosecuted to the full extent of the law.

"This is all part of the same old cat-and-mouse game. When you're writing an ordinance, you can't say, 'This is to prohibit punks from throwing things on Pacific Avenue,' that's the dilemma," said Barisone, noting that the city's Deptartment of Parks and Recreation is "trying to put together a streamlined permitting process, knowing that the bad actors are not going to apply."

Indeed, Parks and Rec's Carol Scurich told Nüz that said permits only cost $10 and should be signed and approved within 24 hours of applying and that so far she's issued one--for music--with one more for music and another for juggling possibly in the works.

But Santa Cruz Art Commission chair Chip (no, he does not have a last name) says the idea of dedicating any city staff to create such a process is "blatantly offensive" given the ongoing cuts in staff and hours for existing programs over at City Hall.

"Street performers are the canaries in the coal mine," said Chip.

And now it seems the canaries are going to sing their sweet heads off, with the Flying Karamazov Brothers, who got their start on our local streets, threatening some serious pin action this fall no matter what.

"Lets bring thousands of jugglers to Santa Cruz! Like Gandhi to the sea to make salt! We'll overwhelm the system," promised Ivan Karamazov, while Dmitri Karamazov told the bubble jailbird, "You are my hero. As soon as I can I'm coming to Santa Cruz and do a street show."

Reached by cell phone en route to the Ukraine, Mayor Emily Reilly vowed to amend the law upon her return to Lemon Land.

"I'm very surprised to hear that anyone was arrested for juggling. I do not believe that was our intent; I have listened to the tapes of Barisone saying this would not outlaw juggling, and if it has been, that's something we need to fix."

To Run or Not to Run?

Rumors that Bookshop Santa Cruz owner Neal Coonerty's son Ryan, 29, is thinking of running for City Council in 2004 got Nüz wondering if the rapid demotion of Richard de la Paz, 26, from the Watsonville mayorship for involvement in a barroom brawl has given the 29-year-old Ryan pause.

"The flip side of youth is that I'm young enough that I haven't had all that much time to collect skeletons," said Coonerty, looking boyish in shorts and flip flops, "but I could hope in a similar situation that I'd have better judgment."

Back from exile in Washington, where he was a lawyer for national commissions on election reform, national security and civil liberties, Coonerty believes, "If you choose to serve, there's a responsibility, but that doesn't change who you are. I saw too many people in Washington make decisions based on 20 years down the line."

Of having dad Neal on the City Council while Ryan was still a senior at Santa Cruz High, Coonerty Jr. says, "I can't say all my family enjoyed the experience, but I think my father enjoyed serving. You get to see how one person can shape the process. It humanizes it. And you realize it's not a monolith of interests and powers, but seven people sitting down to make decisions, which is why it's important that young people get involved and influence policies that are gonna be felt two or three generations from now."

Something From Nothing

To create something out of nothing. That's what Ibdaa, the name of a Palestinian youth dance troupe from the Dheisheh refugee camp near Bethlehem in the Israeli-occupied West Bank, means.

And with attempts to redraw the road map to peace in the Middle East stumbling along, now is the perfect time to check out this troupe, made up of 18 young men and women, who perform pieces that tell the history, struggle and aspiration of Palestinian refugees.

A project of Ibdaa Cultural Center, which provides educational and cultural activities for the children and youth in the refugee camp, the dance troupe is sponsored by the Middle East Children's Alliance, a nonprofit working for a just peace in the Middle East, and the Santa Cruz-based Resource Center for Nonviolence.

"Since its founding in 1988, MECA's programs have emphasized the need to educate North Americans about the Middle East and U.S. foreign policy and to support projects in the Middle East that aid and empower marginalized communities. MECA believes in ensuring the human rights for all people in the region, especially the rights of children," says MECA's press release. You decide.

Call 831.423. 1626 or check out www.rcnv.org for tickets for the July 5 show at 8pm at the Santa Cruz Civic.
---
Nüz just loves juicy tips: Drop a line to 115 Cooper St, Santa Cruz, 95060, email us at , or call our hotline at 457.9000, ext 214.
---
[ Santa Cruz | Metroactive Central | Archives ]