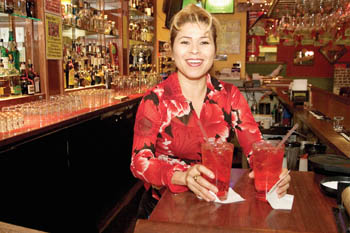 Photograph by Stephen Laufer

Red Rosie: Serving up drinks at the Acapulco, which is undergoing a lot of upgrades after being a part of Santa Cruz for nearly four decades.

Family Tradition

A local staple for almost 40 years, the family-owned Acapulco is being restored to its former glory

By Jessica Neuman Beck

It's easy to walk by the Acapulco Restaurant on Pacific Avenue without really noticing that it's there. Sandwiched in next to Pizza My Heart, the restaurant's unassuming facade belies the festive atmosphere inside.

But according to owner Mark Guluarte, that's all about to change--the Acapulco is in the middle of a remodel. Among the changes is corrugated tin for the trellises, an awning over the bar display and a new ceiling and lighting system. They're also adding a new, backlit exterior sign for the front of the building to entice nighttime diners.

"So much stuff we're doing, I can't even remember it all," he says with a laugh. "Come back in 30 days, and the place will look totally different."

One thing that's going to remain the same is the ownership. Though most locals don't realize it, the Acapulco has been a family-owned Santa Cruz mainstay for almost 40 years.

"The restaurant was started by my mother and father back in 1967," says Guluarte. "It started out back in the day when there were only a couple of Mexican restaurants--Tampico and the Acapulco were the big thing. It was our family-owned business for all that time, and I was the manager up until right before the Loma Prieta earthquake."

When the earthquake hit, the restaurant was among the many downtown businesses that were doubly impacted--the building had to be demolished, and the owners didn't have earthquake insurance. Guluarte's father was forced to liquidate assets to pay for the reconstruction.

"After the city decided what they were going to do as far as rebuilding, they made the owners wait until they had really thought through what they wanted downtown to look like," remembers Guluarte. "During all that time my dad was losing revenue, and it was very, very difficult on our family."

To make ends meet, Guluarte worked as general manager of a popular Mexican chain restaurant, and ended up staying with it for 10 years. Finally, his father was able to reopen the Acapulco.

"He said, 'I really want to get family back in the building.' So I came back and ended up buying the restaurant, and have been slowly remodeling it, bringing back the quality that was there before," Guluarte says. "Getting it back to what it should be."

One thing that Guluarte took away from his years on leave from the family business was a love of fresh seafood. "It always used to drive me crazy that they had great Hispanic employees and kitchen managers who knew how to make this great food, but they made this very Americanized Mexican food. But their grilled food was off the hook," he says. "It was fantastic."

When Guluarte came back to the Acapulco, he used his experience to make the menu truly unique. "I pumped up the Mexican food and got it back where it should be, and then I also infused things like bacon-wrapped salmon with fresh pineapple salsa, and Mahi Mahi fish tacos, and jumbo sea scallops in jalapeño cream. Things out of the ordinary."

While staples like steak piccata, fresh menudo and chile relleno suiza will always be on the menu, the Acapulco also features things you might not expect to see at a traditional Mexican eatery, things like chicken fettuccini with artichoke hearts.

"People love it," says Guluarte. "I'm trying to round the menu out. Make it so that all kinds of people can come in and find things that they enjoy. That's really my goal."

He also has a vast selection of vegetarian entrees. "We do seasoned ground soy that you can substitute in everything. We have grilled portobello fajitas, which are outstanding." Guluarte also wants to add entrees aimed at the carb-conscious crowd. "Some good fresh fish and vegetables, things that are maybe a little healthier for people who are trying to count a few calories but still go out and have a really phenomenal dinner. People are trying to be healthier," he says.

Guluarte's vision of the Acapulco's future is strikingly similar to his father's. "I'd like to keep it going in our family location for another 40 or 50 years, so I can turn it over to my kids," he says. "That was my goal when I came back." In the meantime, he's got his hands full with the remodeling and the new grilled foods on the menu. "It's almost there," he says. "I think we're pretty much ready to rock & roll."
---
The Acapulco Restaurant is located at 1116 Pacific Ave. and open 11am-10pm daily; 831.426.7588.
---
[ Santa Cruz | Metroactive Central | Archives ]