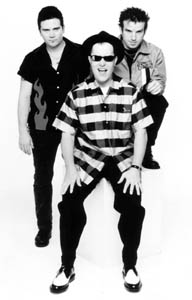 Wiggle Sticklers: The Reverend Horton Heat plays the Catalyst Friday.

Preacher Man

His new album is called 'Revival,' but his live act would work just as well under a circus tent. The Rev. Horton Heat finds success in excess.

By Adam Cotton

"If you listen to the band's catalog, you might say there are a few recurring themes found in our songs: beer, gin and tonic, whiskey, cocaine, tequila, martinis, marijuana, cigarettes, cars, more beer, pretty women, sermons, cats and dogs, the devil, Texas and Jimbo. Not to mention steak and dildos. All the good things in life."

So says Jim Heath, a.k.a. the Reverend Horton Heat, from a flaming pulpit atop the mountain of Rock & Roll. OK, actually during a phone interview. But still, in the musical realm where the aforementioned excesses abound, the Rev. is your official representative. And he speaks the truth in a language that takes rockabilly, surf, punk, swing, blues and country and slams them together into a screaming cocktail that some call psychobilly,

As leader of one of the hardest-working touring bands around, the Rev. has been tearing it up live since the late '80s, playing around 200 nights a year all over, with no signs of letting up anytime soon. With a brand spankin' new album, he'll be making a stopover in our neck of the woods to keep us on track by preaching some of the finest gospel you done heard in these parts since ... well shit, the last time he paid us a visit.

Gettin' Right With God

For all of his wild antics, smokin' stage performances and legendary musical prowess, the one thing the Rev. always gets asked about is the story behind his unusual clerical moniker. And this interview was no exception.

"Well, there used to be this guy who ran this place in Deep Ellum, Texas, who used to call me Horton," says the Rev. "This guy hired me, and right before the show he goes, 'Your stage name should be Reverend Horton Heat! Your music is like gospel." And I thought it was pretty ridiculous. So I'm up there playing, and after the first few songs, people are saying, 'Yeah, Reverend!' What's really funny is that this guy gave up the bar business, and actually became a preacher! Now he comes to our shows and says, 'Jim, you really should drop this whole Reverend thing.'"

The aforementioned place in Deep Ellum was where the Reverend got his start playing solo gigs, sometimes acoustic and sometimes electric. By and by he put together a band.

One fateful night after a show in Houston, an audience member by the name of Jimbo Wallace impressed him and his bassist with some fancy playing.

"I could tell right off the bat Jimbo was doing the rockabilly slap thing I wanted. I heard him doing these double slap and triple slap little things, and I got his number that night," says the Rev.

Not too long after, his bassist quit and he wasted no time calling up Jimbo the next day.

"Two days later, Jimbo quit his job, moved to Dallas, and he was in the band," says the Rev. "We did a gig the next weekend."

In their live shows, Jimbo's high-flying, body-surfing bass antics are something of a spectacle. A few albums back, powerhouse drummer Scott Churilla hopped on the boat. What you end up with is like rockabilly on psychedelic steroids.

'Revival' of the Fittest

Revival, released last Tuesday, is the band's eighth album. The disc is something of a return to Heath's roots both musically and geographically, as it was recorded in Deep Ellum, Texas, a block away from where the Rev played his first gig.

With tour manager and soundman Dave Allen behind the board, the album aims to capture the group's high-energy live performance style that they're known for on tape. Overdubs and other additions were kept to a minimum so the album's material could be performed live.

It's been a busy and emotional year for the Rev., who lost his mother, is raising a new daughter with his wife and recorded the new album. Something that fans might find surprising is that he's been a father since the beginning.

"It's kind of amazing I've been able to pull off this Reverend Horton Heat career and be a dad," he says. "A lot of our fans are younger than my daughter."
---
The Reverend Horton Heat performs Friday, July 9, at the Catalyst. The Detroit Cobras and The 45s open at 9:30pm. Tickets are $20; 831.423.1336.
---
[ Santa Cruz | Metroactive Central | Archives ]