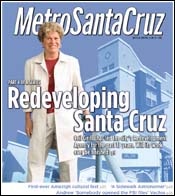 For the Week of
July 13-20, 2005
Cover Story: Redeveloping Santa Cruz:
Ceil Cirillo has led the city's Redevelopment Agency for the past 15 years. Will its work ever be finished?
Nüz: DIY July 4; Supreme Jitters; WAMM Fest; Ready, Set, Go.



Rev: Man Replacement: My other pal, M, loved Kevin's no-nonsense nature and his 1978 GMC Sierra, named Kevin Junior, that he used for his hauling business.



Space Man: 'A Sidewalk Astronomer' chronicles the pleasures of a life spent looking up and out.
Latchkey Kids: 'Me and You and Everyone We Know' is the best tag-team movie about Los Angeles since 'Short Cuts.'



Amazigh Arising: Led by local musicians Fattah Abbou and Mohamed Aoualou, Santa Cruz will host one of the only Amazigh cultural festivals in the United States.
Someday Coming Round: In which a third compilation of deviant twang is delivered.
The Rock Show: The Dead Hensons; the reopening of Henfling's.



Shades of Gray: Andrew Vachss wants you to ask the questions.



Retail Renewal: Black China Bakery celebrates 25 years by opening the colorful Black China Cafe.
Copyright © Metro Publishing Inc. Maintained by Boulevards New Media.