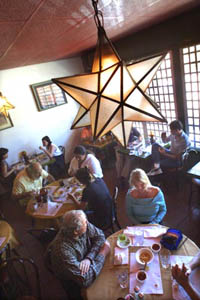 Star Cuisine: Melted cheese and velvety beans are the food of the gods at Manuel's.





Mano a Manuel's

Once a landmark, always a landmark--that's the story at the Mexican mecca that is Manuel's in Seacliff

By Christina Waters

ON THE TRAIL of a world-class chile relleno and some killer salsa, we joined the summer crowd at Manuel's in Seacliff last week. Some of my happiest dining memories revolve around the restaurant we affectionately call "Manny's," after the charismatic owner Manuel Santana, who started the restaurant ages ago as a hangout for his artist friends.

The welcoming Mexican eatery has gradually evolved, but not too much, over the years. The bar in front, a fairly recent addition showcasing vibrant Oaxaqueño crafts, keeps people happy while they wait for tables. Some exquisite Zuñiga prints line one wall, and a wine cabinet shows of the owner's passion for fine vintages.

But the refried beans and earthy guacamole are still exactly as they were two decades ago: great. Accompanied by our graduate student taster, Noah--hungry enough to eat a Volkswagen--we finally got someone's attention and ordered a few beers and a glass of Thomas Fogerty Merlot 1999 ($5.50).

Our basket of chips disappeared by the time Manuel's salad (half for $3.75) and guacamole arrived ($3.50). Wildly idiosyncratic, the salad has always appealed to me. Jack loved it, too, with its spicy vinaigrette drenching what can only be called iceberg lettuce. Why iceberg should be the lettuce of choice here remains a mystery. But it is.

And it acts as a crunchy vehicle for delivering a huge helping of guacamole, tomatoes, sour cream and black olives. A few garbanzo beans decorate the top of this strangely exotic creation, or rather they did before Noah inhaled them. Intensely tangy, the salad is a required first course for Manuel's dinners, setting the taste buds up for the plunge into soft, Mexican comfort food to come.

Soft as a cloud, and filled with the oozy glory of melting quesa fresca, the chile rellenos ($9.75) lived up to my memory. A halo of tomatoey broth moistened this lovely creation of cheese-stuffed poblano, which arrived along with a lake of refried beans so compelling they could give lessons.

Rich, creamy and glazed with a mini-lake of melted cheese, the beans knocked us out. So did my dinner order ($10.75) of chile verde, loaded with succulent pork simmered in a stew of mild green chiles. I sacrificed some of my own refried beans--a serious sacrifice, I might add--to Noah, whose combo order of cheese enchilada ($4)--"Perfect!"--and roast chicken flautas ($5.50) didn't have room enough for beans.

Each plate came garnished with its own individual salad topped with more sour cream, salsa and the aforementioned killer guacamole--the kind of guacamole that is avocado-intensive and heightened with lots of lemon. Not a word was spoken for a long time as we simply floated suspended in a heaven of soft, caressing flavors and textures. Melted cheese and velvety beans must be the food of the gods, Olmec and otherwise.

After a few bites, it's true, the various dishes on each plate tended to morph together into a brown-gold collage of creaminess. We didn't care. The appeal of this food is not about precise edges or fussy garnishes. Its appeal is elemental--beautifully made and abundantly flavorful--not designer or loaded with trendy technique.

Dining at Manuel's always rewards a hearty appetite, especially one tuned by a well-made margarita. Deciding to go for the full enchilada, figuratively speaking, we ordered a flan custard ($3.50) and a gigantic slab of mud pie ($4.25). Topped unnecessarily with whipped cream, the flan was barely sweet and totally satisfying. The chocolate cookie crust, 6-inch wedge of coffee ice cream and oozy fudgey pie beckoned. "I don't think I can eat it all," said Noah, who proceeded to do just that. But not until I'd sampled it and remembered that chocolate was Mexico's gift to the world.
---
Manuel's
Address: 261 Center Ave, Aptos
Phone: 688.4848
Hours: 11:30am-midnight daily (until 11pm on Sun)
Ambiance: ** 1/2 Loaded with beach funque appeal and colorful artwork
Service: * 1/2 Can be warm, friendly and swift, or rushed--inconsistent
Cuisine: ** 1/2 Consistently sensuous, generous well-made Mexican standards
Overall: Still a landmark and graced with the finest refried beans this side of Oaxaca
---
[ Santa Cruz | Metroactive Central | Archives ]