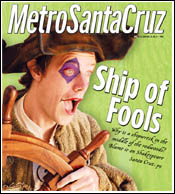 For the Week of
July 20-27, 2005
Cover Story: Ship of Fools:
Why is a shipwreck in the middle of the redwoods? Blame it on Shakespeare Santa Cruz.
London Texting: Technology sent an activist message around the world. Unfortunately, so did the bombs.
Breaking the Cycle: Gemma offers a new life for women getting out of jail.
Nüz: X Factor; Turn to the Other Left; The Other Metro; Nurses Victorious.



Rev: Your Gas Station: Although the Chavez plan has been mocked by conservatives who urge that Venezuela should build relations with the United States, I would argue, why should he?



Policy Wonka: Tim Burton and Johnny Depp put a new spin on Roald Dahl's spun-candy favorite, 'Charlie and the Chocolate Factory.'
He and She: 'Yes': Adulterers anonymous, in iambic pentameter. Wait, which one is supposed to be Rick Wakeman?



Inspecting the Spectacle: Clawing through the dirges and theatrics of the New Thrill Parade.
The Rock Show: Beck.



Emotional Shorthand: Jasper Fforde's fiction gets into reading as his characters travel from 'Jane Eyre' to 'Hamlet.'



Vegging Out at the Wharf: In which things get fishy for our veggie columnist.
Copyright © Metro Publishing Inc. Maintained by Boulevards New Media.